Continued from https://traveltalesntips.com/destinations/visit-to-spiti-narkanda-kalpa-sangla-valley-chitkul/
23rd June, 2019: We finished our breakfast quickly at TETHYS SKI RESORT NARKANDA and were all set for the drive to Kalpa.
Kalpa is a small village in the Kinnaur district of Himachal Pradesh lying in the Sutlej river valley, above Reckong Peo. Known for its apple orchards, the place has mesmerising beauty. The road to Kalpa is as beautiful as the place itself. Visit to Kalpa is laced with snow cladded mountains, a tete'-a'tete with Kinnauri people, a feel of the local Kinnauri hilly life.
We left Narkand at around 11 AM and reached Kalpa at around 5 PM.
The journey from Narkanda to Kalpa was as close to nature as it could be.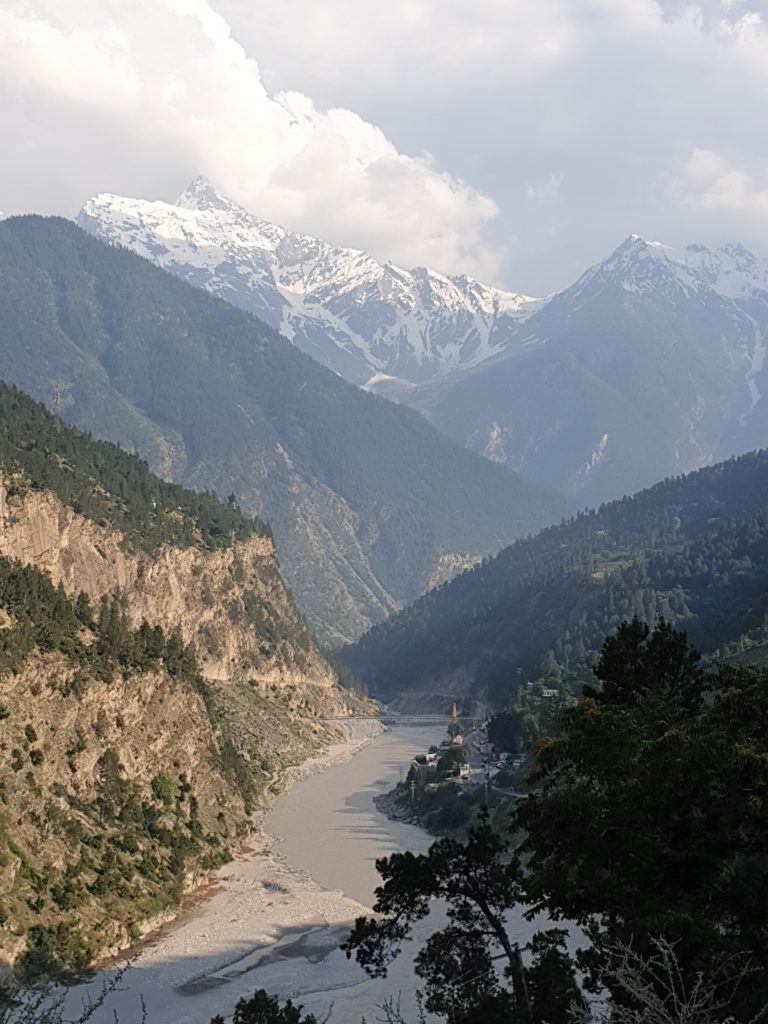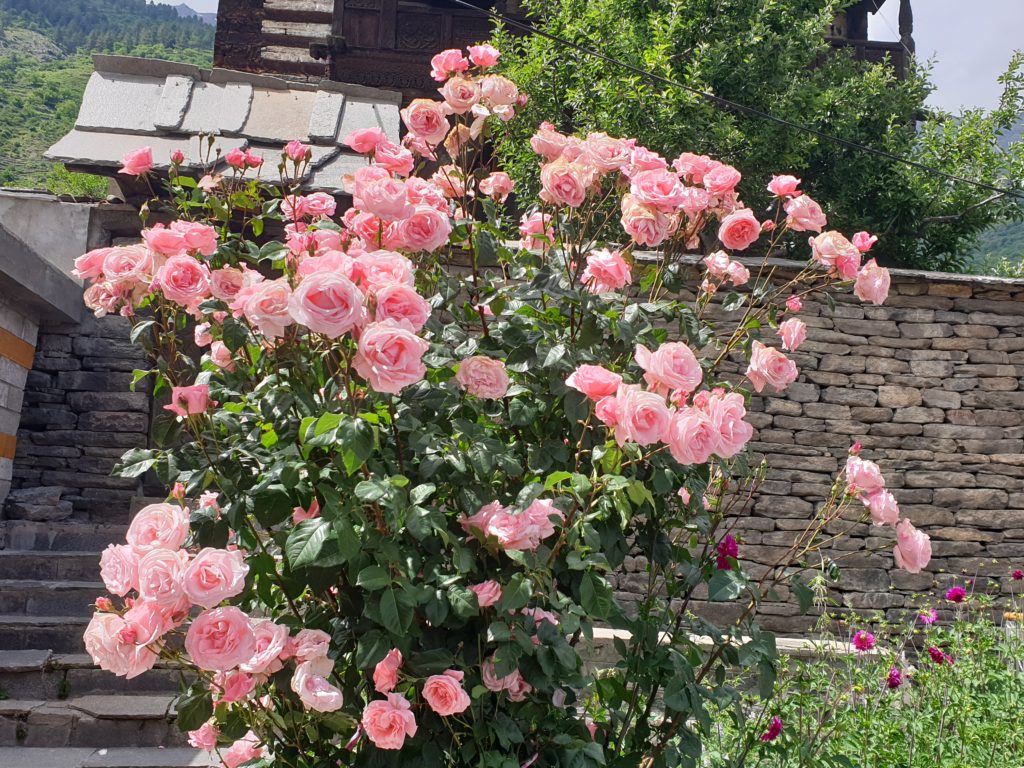 The entire drive is scenic
There are apple orchards every where. They accompany you all around the entire route to Kalpa.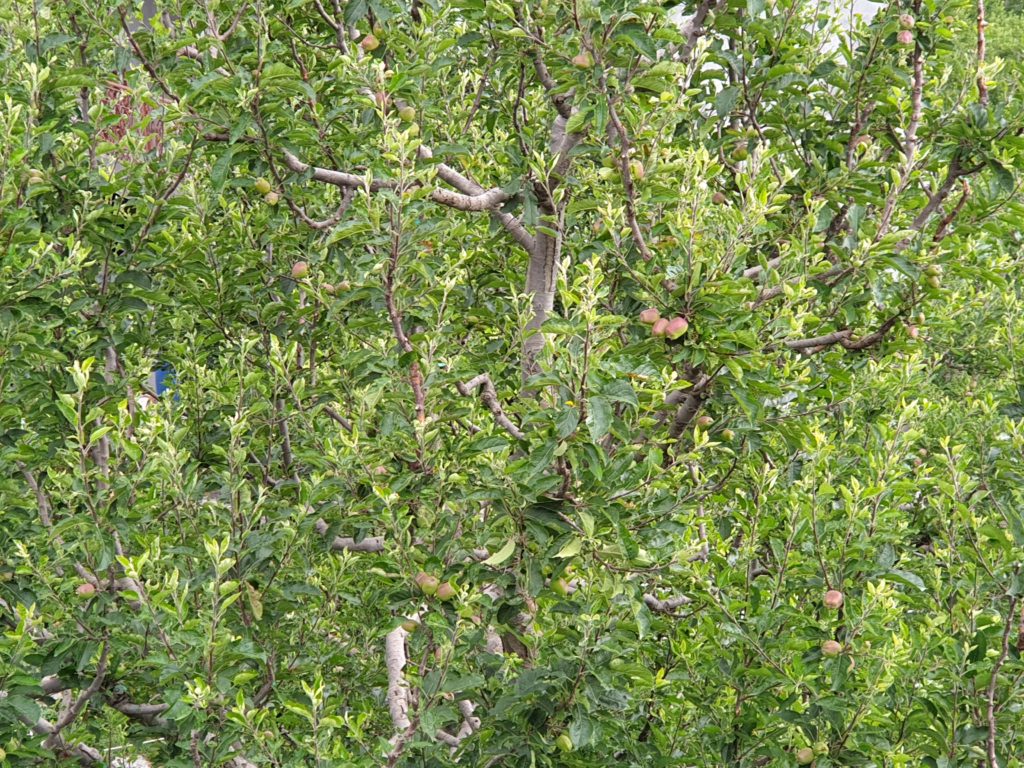 On the way to Kalpa, we stopped at a waterfall – clean, fresh water of the river Sutlej was very iniviting.
On the way, we stopped at a local dhabha and had local food. It was a dhabha run by a Sardar ji and food served was just out of place – hot kadhi (it is a dish made out of maize flour) and rice with salad. I think I would have taken two servings.
We reached our hotel, Kalpadesham at around 5 PM – it was the best one could get in a village like Kalpa. Rooms are very basic but neat and clean. If you are lucky, you could get a room facing the Himalayas. It is almost home cooked food. Amenities are basic – you will need to ask for hot water buckets since there is no facility of geyser in the room.
I am a very finicky person when it comes to amenities of the rooms but everything else took a back seat when I just opened the balcony door – the vastness of the snow laden peaks right in front of me took away all the tiredness of the journey.
At the nearby Buddhist monastery, Om Mane Padme Hum was being chanted and the whole experience just took me into another world – spiritual music in the air, cold breeze caressing me, snow laden peaks in front, rustling of leaves of apple trees and the vastness of the skies. I just felt that time should stop here. While i was soaking in the beauty of nature, I got a call from care taker – they had prepared 'Masala chai' for us. If you are in India (especially hills) and if you have not savoured masala chai, then you have missed the magic. Masala chai is made using so many herbs and the aroma is just what you need to make it a perfect setting.
I asked the tea to be served in the lawn itself. While i was enjoying tea with all of us sitting together, the sun was slowly setting behind those hills and the hues of sunset covered the sky – hues of pink, purple, orange all over the snow made a mesmerising view.
We could see kinnar kailash peak from the hotel.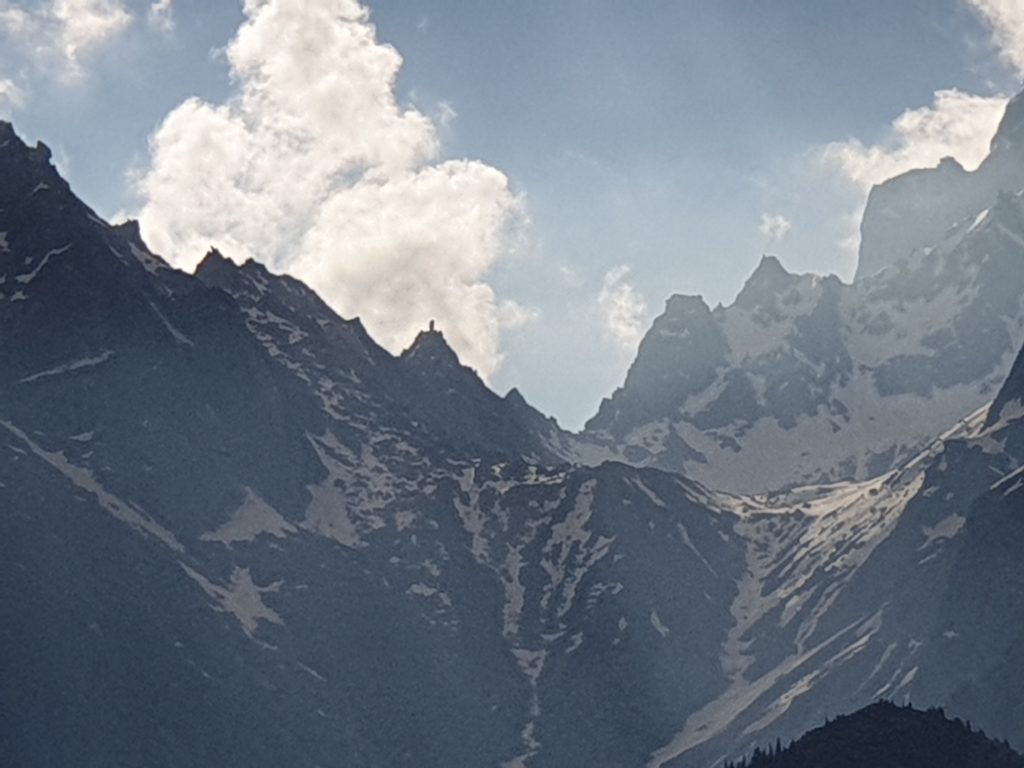 Before it could get dark, we went to the local Hindu temple which was nearby. Wood work at the temple is seen to be believed. Temple had shut for the pooja but we could manage a sneak peek into the premises.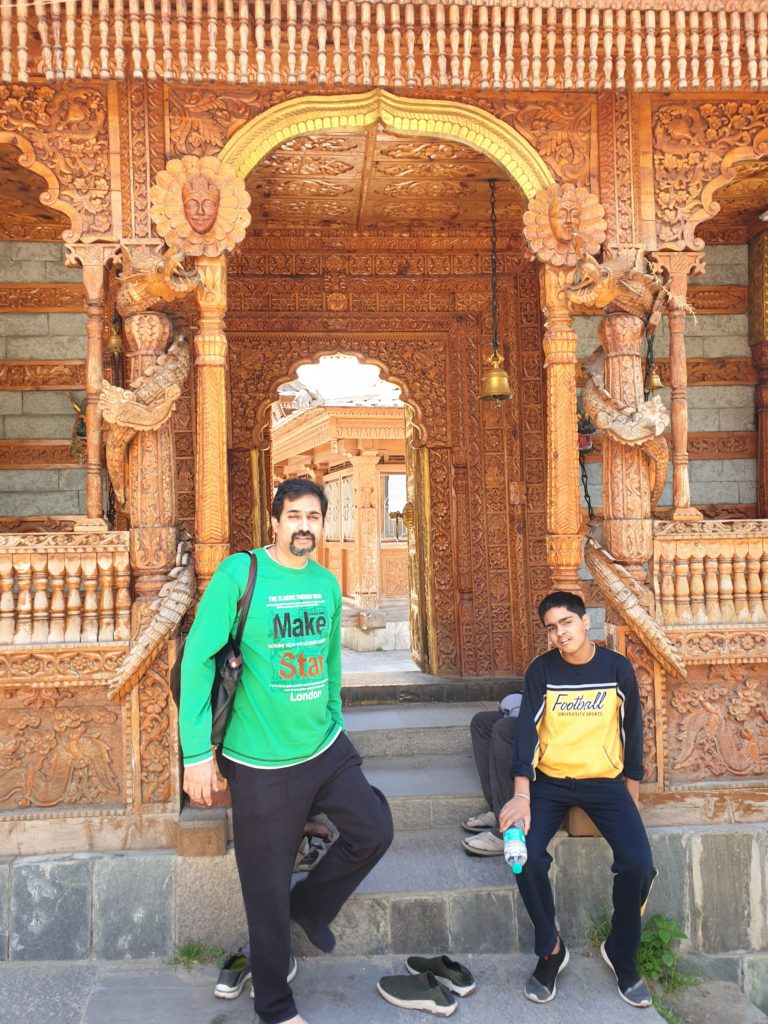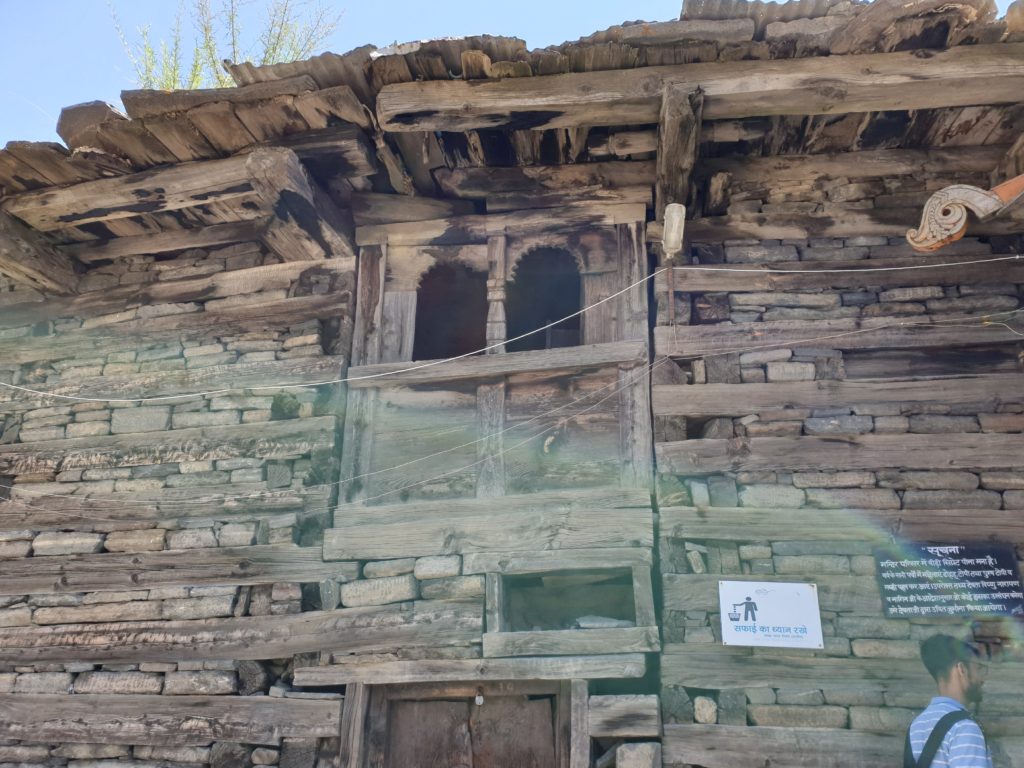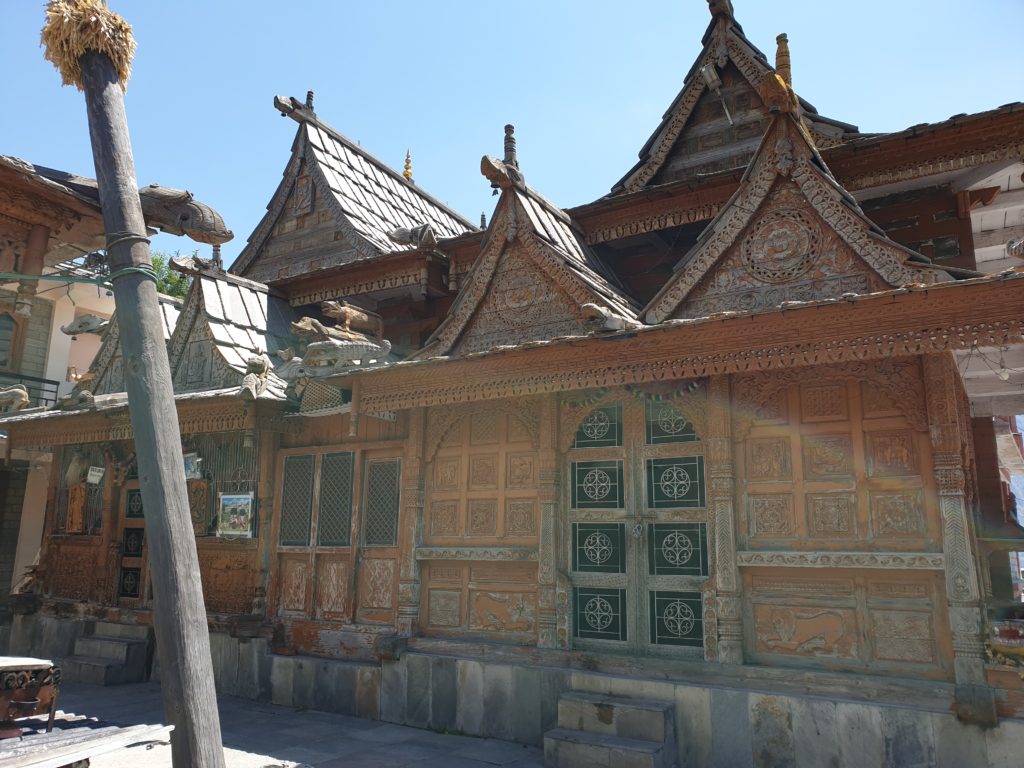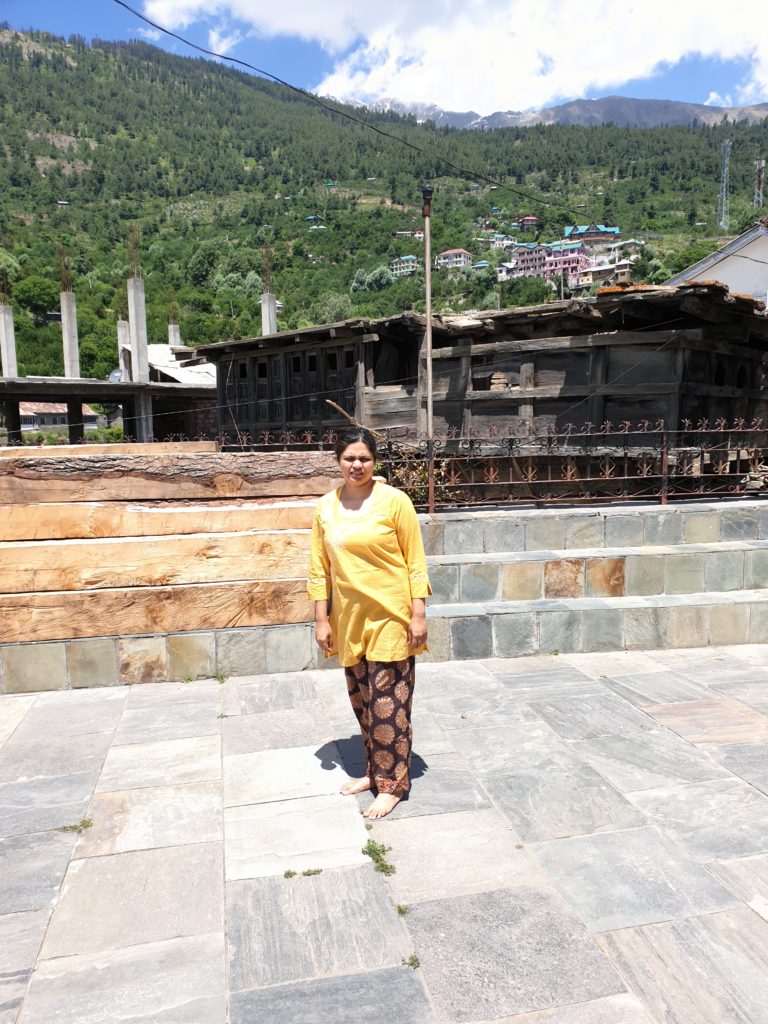 Post our visit to this hindu temple, somebody suggested that we must trek to the old palace of the king which is just outside the kalpa village. Although it was very heavy after the breakfast, but we still decided to trek to that point and it was worth all the effort.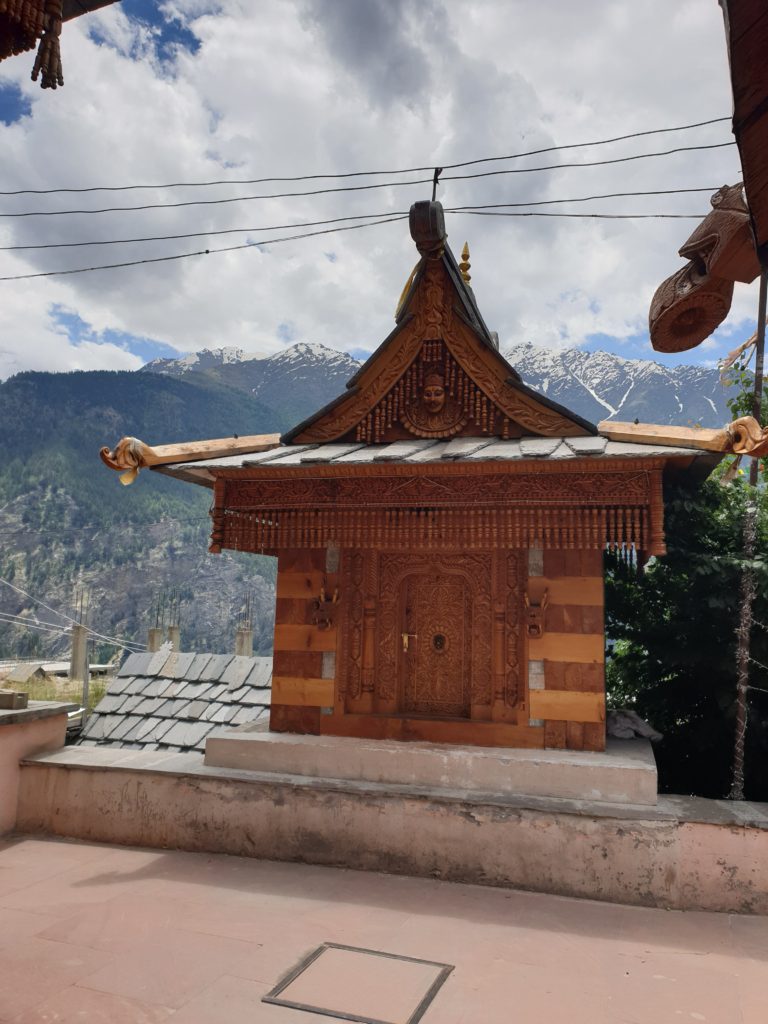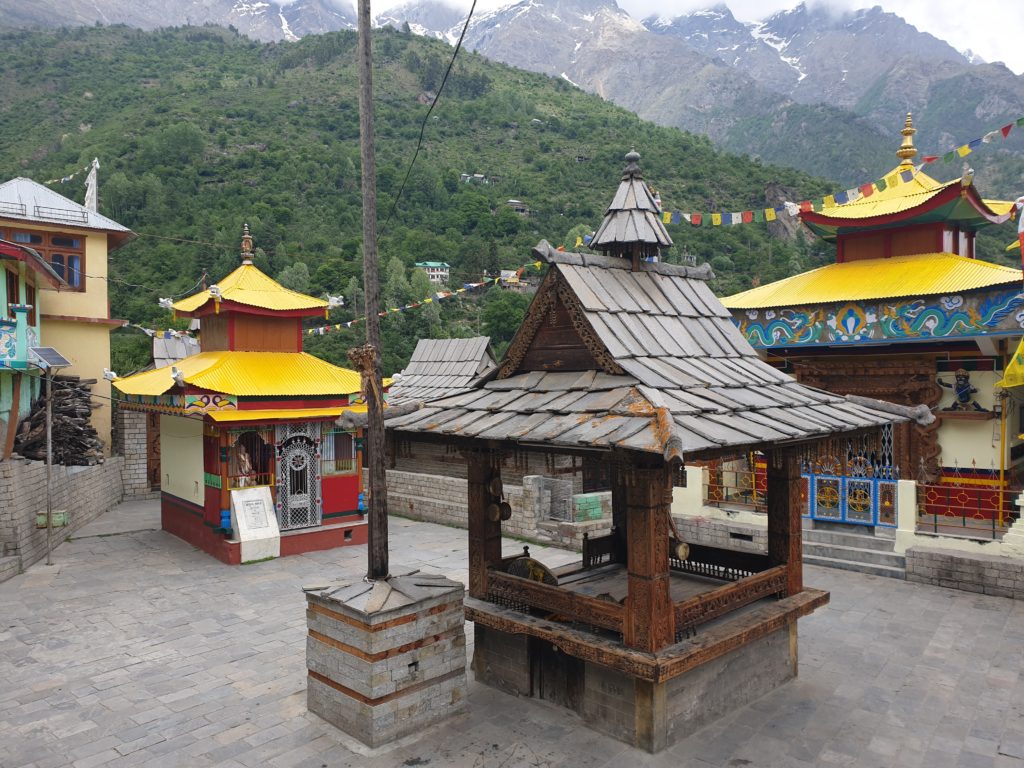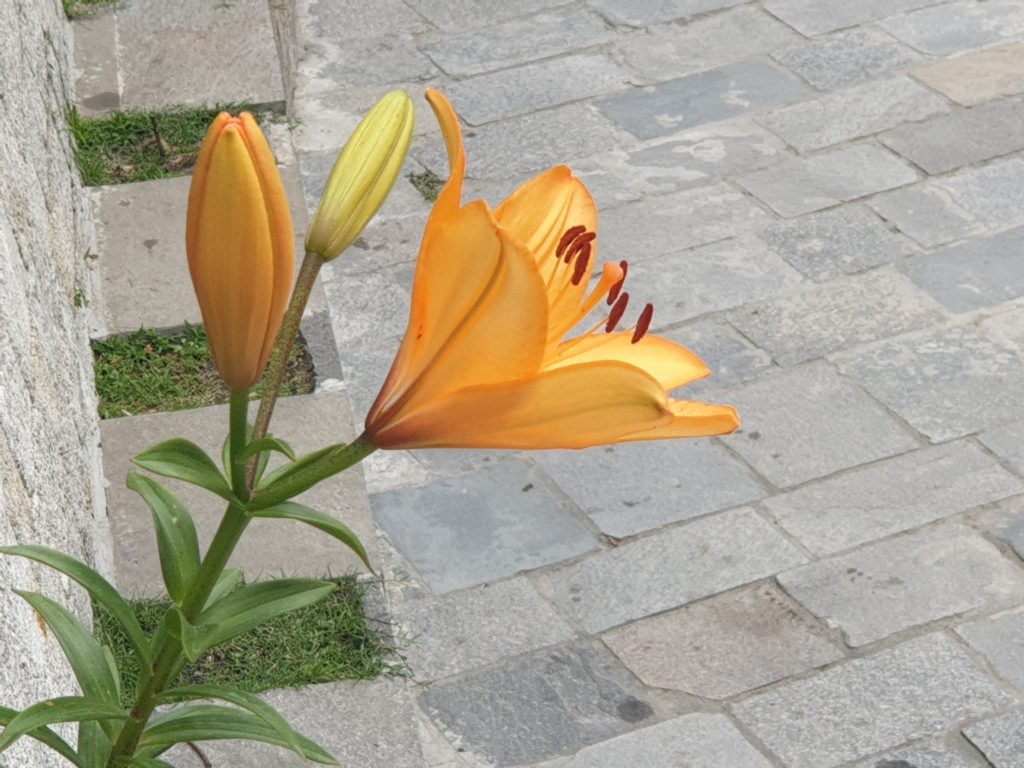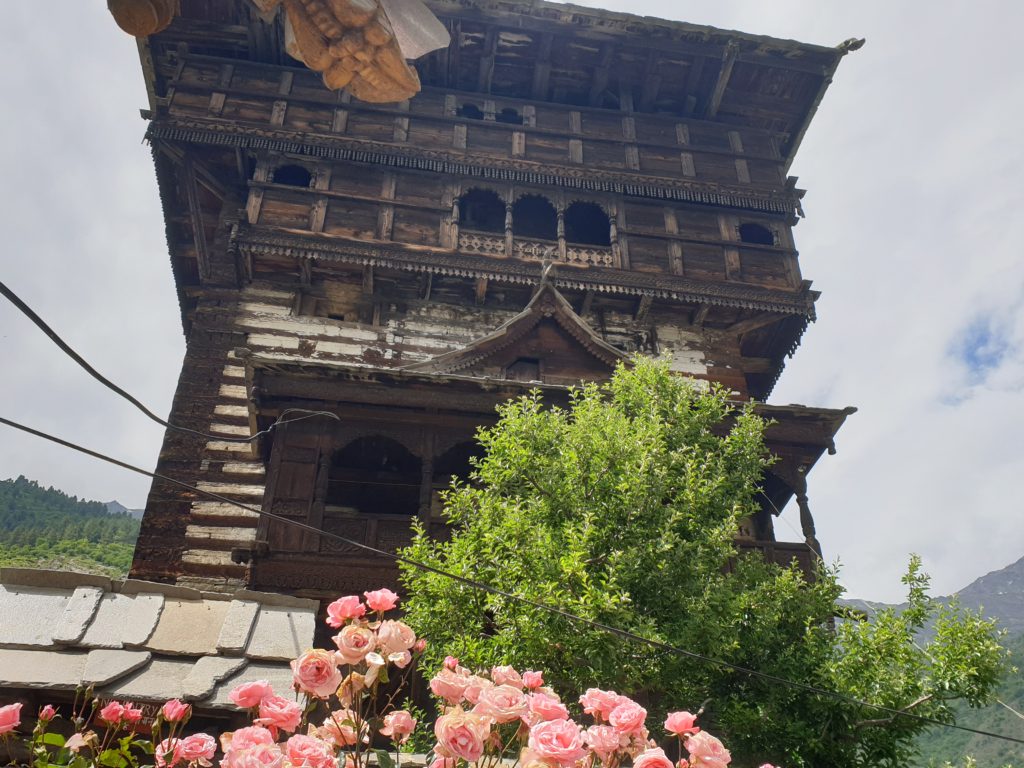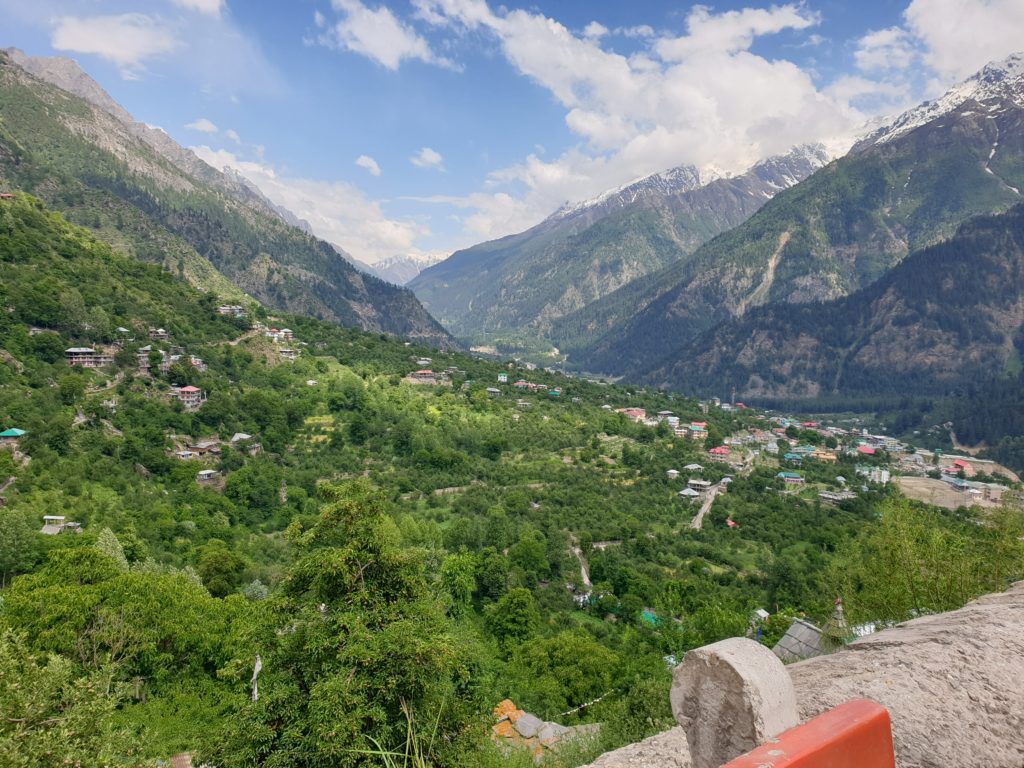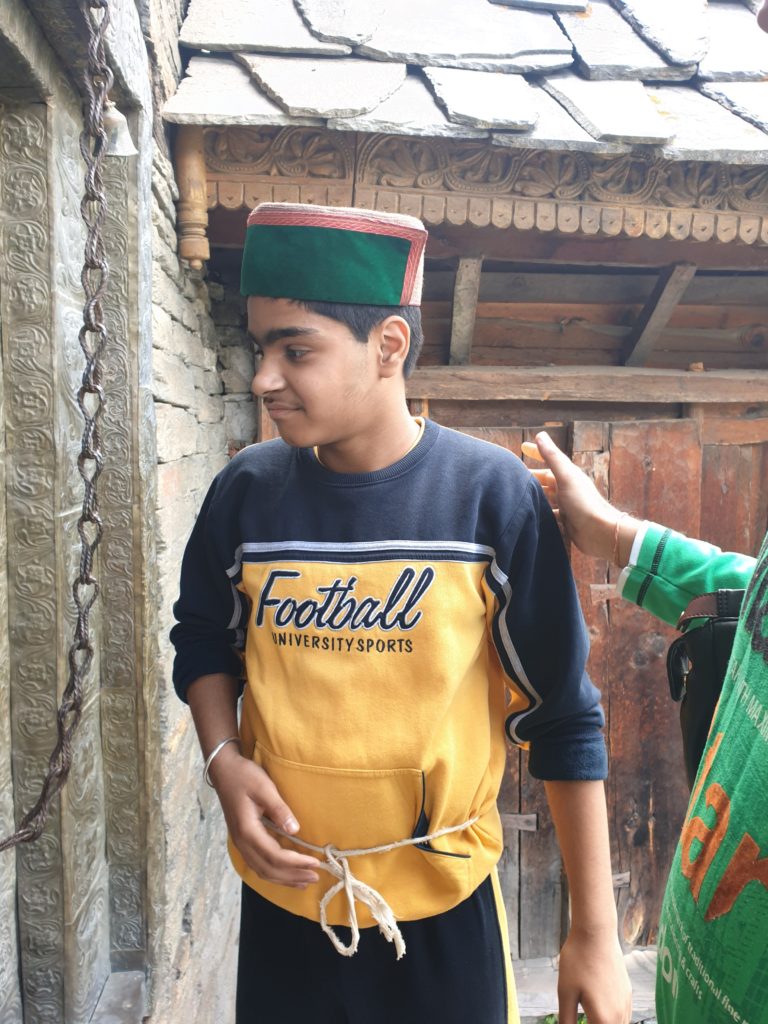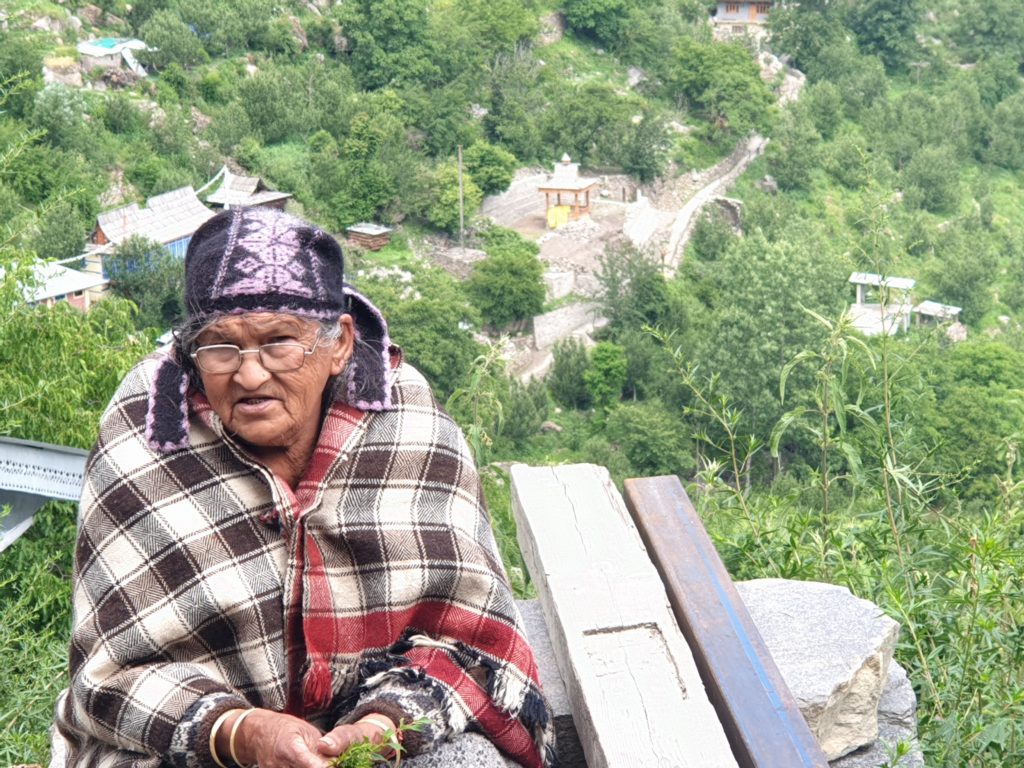 We spent half an hour at the palace and post that we trekked down – the entire trek up and down would have taken 2 hrs. By the time we reached base, it was 2 PM and we embarked on our journey for our next halt at Batseri Village, Sangla Valley and from there to Chitkul, the last village on the Indo-Tibetian road.
Continue to read…Trip to Chitkul!