Trip experience of Paro, Bhutan
June 2017/ Continued from Punakha, Bhutan..exploring Paro, Bhutan
By the time we reached Paro, it was about 4 PM. It is a distance of about 120 Km from Punakha and it took a total of about 3.5 hrs to reach Paro.
The hotel Naksel Resort in Paro is quite far off from the main town. Naksel in Dzonkha means 'jungle'. It is a very beautiful property. The building is mainly done in wood.
There are 6 Villas and my villa was number 2. It is surrounded by jungle on almost all sides and has apple orchids around it.
It is located at a ridge and villages can be seen far down below.
The staff of the hotel was extremely friendly. We were welcomed with apple tea (apple vinegar used in brewing the tea was made from apples plucked from the hotel orchids) and white silk scarves. A member from the hotel reception desk also accompanied us and showed the property.
There is a huge dining area overlooking the valleys. We could also see Tiger Nest perched up high in the mountains from the dining area. While we sipped tea in the balcony of the dining area, our luggage was moved into the rooms. Rooms are quite a trek from the reception and the hotel staff uses golf cart to port the luggage to the rooms.
We had some snacks on our way to Paro. So, we decided to skip lunch and planned to have early dinner (another factor which weighed on our mind was the need to see as much as possible before the clock ticks 5 PM as by now we were aware that post 5 PM all temples and monasteries will be closed).
Agenda for Paro was planned as follows:
| | |
| --- | --- |
| 29-Jun-17 | After breakfast, we hike up to Taktsang monastery (The Tiger's Nest). In the afternoon proceed to northern part of the valley to Drukgyel Dzong, National Museum, Paro Dzong,  Kyichu Lhakhang, Farm House (traditional village house), Dungtse Lhakhang |
| 30-Jun-17 | Excursion to Chele La pass and Haa Valley. The pass provides stunning views of the sacred mountain Jomolhari and Jichu Drake – Made all the more mysterious and beautiful with its abundance of prayer flags – Back to resort, |
| 01-Jul-17 | After Breakfast: Check-Out from Hotel, Drop to Paro International Airport |
But given the experience of trekking we had in Khamsum and Chimi Lhakhang in Punakha and given that Tiger Nest is about 11 Kms of steep trek, we knew that we will not be able to cover any points other than Tiger nest on one day – neither will we have energy nor will we have time!
So we decided to tweak the itenary.  Travel desk at the hotel helped us in that. We were connected with Fhuntscho Wangde (our driver for the next three days). He is an excellent person – very jovial, knowledgeable and helpful. He is also employed with the hotel in the finance department and takes to taxi driving as a part time job. He lives in the village next to the resort.
We told him we will go for seeing some nearby points today and on his recommendation we zeroed on  Kyichu Lhakhang, Farm House (traditional village house), Dungtse Lhakhang.
At 4.30 PM, we started our journey to Kyichu Lhakhang. It is one of the oldest and sacred temples in Bhutan built around 7th century AD.
It was about to be closed but we were very lucky to have made to it in time.
Main Lama ji was still in the shrine and was praying to the God. We also sought his blessings.
We spent about 20 minutes in the main shrine and moved to the next stop which is Dungste Lhakhang – It is located very near to the Paro town in a small village called Jangsa. It was built in 13th century. Unfortunately, when we reached there, it was already post 5 PM and had been closed for public. We could see several people praying outside.
Fhuntscho suggested that we should next see the farmhouse or traditional village house – this place is very close to the village where Fhuntscho stays. It is a very old house and the has been passed onto 5th generation. It once belonged to the governor of Paro.
Fifth generation owner, Jigme Dorji, is a very kind person and although it was very late, he showed us around. He is now settled in Singapore but does visit the ancestral home very often. He has big plans to develop the property into a major tourist attraction where he can offer Bhutanese food, stone bath facilities so that visitors can have a complete feel of Bhutan.
The house was built in 18th century by Paro governor and he used to live in the house with his two wives.
It has a unique architectural design which represents architectural design used by powerful people of those times.
It is surrounded by a tall mud wall that is believed to prevent entry of evil. Several antique items including his sword and shield can still be seen displayed in the farmhouse. 
The house gives a peek into the rural life of 18th century Bhutan – one can spot cookware, clothes of those times. It has been completely kept in tact.
We had a good look inside the house and spent about 30 mins basking in the old world charm. It was getting dark and we were feeling hungry. We asked Funsu to take us to a good eating joint in the Paro main town bazaar.
Main bazaar is located on the banks of river and one can easily see the Paro Dzong. We decided to take a stroll around the river bank – there is a very nicely laid out concrete road on the river banks. So the river, the road and the bazaar all three go in parallel lanes for quite a distance and we walked the entire stretch to bask in the splendid views of the Dzong, the mountains as well as the valleys.
If you are in Paro, Mountain cafe is a must visit restaurant. It serves awesome Indian food as well as Bhutanese food. We ordered dry aloo tomato subzi with chapatis. It was very very yummy and many Indians were seen thronging to the place.
Food is quite nominally priced but very tasty. In case you have craving for Indian dishes (right from Pao Bhaji to Pakodas you can try them here) or for cakes, Mountain cafe is the place.
After dinner, we had some feel of the local market – you can buy here ethnic stuff but things are quite expensive in this market with no bargain.
We strolled for about 30 mins and then decided to move back to hotel as next day was a very hectic one – trek to Tiger nest. We retired to bed at about 9.30 PM.
Day 2 – Trek to Tiger Nest, Paro, Bhutan
Fhunstcho suggested that we must start latest by 7.30 AM so that we can start trek by 8.00 AM (as the trek is quite steep and trekking in sun will make it all the more difficult). By the time we finished breakfast, it was 7.40 AM and we could make it to the base point of trek to Tiger Nest by around 8.10 AM.
The monastery is built on a scary cliff – this place is one of the most iconic buildings of Bhutan. It is believed that Guru Padmasambhava flew to this site on a flying tigress in 8th century. Later the monastery was built and is the most popular site in the country for locals and tourists alike.
I had already asked Funsu to pack walking sticks for me as I had back ache issues – with my walking shoes and back belt on, I started trekking at 8.30 AM. There is an option to trek on ponies but for people with back issues, this is not recommended. I personally know many people who have aggravated this issue by taking ponies for treks.
Before trekking, I noticed that we had to procure tickets for entering the main shrine – not many people notice the ticket board and are highly disappointed when they are not allowed to enter the temple after trekking for 6 kms. (Tip: Don't forget to buy tickets. For more tips, please visit Tips for Bhutan). Normally, it is said that it is two-hour hike from the mountain base but it took us good five hours to trek upto the temple.
Trek to the temple has mesmerizing views of the valley and the mountains all around – you will also be able to see many varieties of Himalayan flora all around. Just before you begin trek, you will also find hawkers and vendors selling handicraft items (if you like something purchase it, prices are much higher in the main town bazaar)
There are many shortcuts on the way – small 'pagdandis' which are not travelled on by many people. One can be adventurous and take these shortcuts. Once you have trekked about 4 Kms (almost near the temple), there is a big flight of stairs (almost 500) which first descent deep into the valley and meet a waterfall and after that ascent upwards to the main shrine
I was very exhausted but somehow kept going – my back was in terrible shape and I was scared that I might not collapse with so much pain but by God's grace I kept walking.
On the way, I took halts at many places – almost at each hairpin turn I sat to catch my breath. 
Midway to the shrine, there is a cafeteria. One normally gets tea served but there is no other snack. They also serve buffet (for Nu 300 each) but I did not like the look and feel of food (for me food first has to be hygenic for me to eat) – it would have been a good idea to carry some biscuits or snacks from base itself. We were carrying enough water with us but did not carry any snacks.
There are taps (only near the cafeteria point) where one can refill the bottles – water is very cold and fresh.
There were many trekkers – I met many people of Indian, Bhutanese, Englilsh, American, Korean origin. Some people were very fit and were able to trek (both up and down in 2 hours – I met a local pony owner who was carrying goods to the monastery for the monks. When we were trekking down, he was trekking up and before we could reach base, he was already trekking down and reached base before us)
By the time we reached the temple, it was 12.30 or 1.00 PM. There are lot of stairs within the shrine as well and there are lot of temples as well – we were asked to deposit phones, cameras, umbrella etc. in a locker before entering the premises. Tickets were checked and we could go in. Many people who did not know that they had to buy tickets were highly disappointed and just sat outside.
We visited some of the main temples inside – saw the main temple and prayed to Guru Padmasambhava. There is a room of butter lamps where lot of diyas were lit. After spending about 30 minutes in the main temple, we explored other temples in the premises. We could also see the cave in which Guru meditated.
At around 2.00 PM, we started descending. It had started pouring heavily by then. The stairs had become very slippery. With the help of two sticks, I started walking slowly.
After climbing some 200 stairs, I started having a pinching ache in the back. I was in terrible pain and had tears in my eyes. With a severe back ache, I had almost lost hope that I will be able to climb down but like they say if there are no alternatives, determination to do something becomes better – I knew that there is no alternative. I cannot take a pony. There is no provision of a Pithoo or a palki and it is only me who has to carry myself down.
We rested for about 15 minutes at benches near the 'stair-point'and I mustered all courage I had and began the walk again. By resting every 10 minutes, we managed to come down by 6 PM. Funsu was already waiting in the base station parking area. I was in a very bad shape and could not lift myself to sit in the car by now. With two cushions behind me, I asked Funsu to take me straight to the spa center in Naksel. I was not able to walk at all by now.
At the Spa center, I was helped by the attendants. I took full body massage with hot oil and followed it with hot stone bath. After a two hour therapy, I felt some what better and was able to stand up. We had an early dinner that day and hit the sack at around 9 PM. I took two voveron tablets as I had severe headache as well.
Day 3 – Paro Dzong, Chalela Pass and view of the Haa valley
We wanted to keep this day very relaxing as next day we had to board the flight back to Delhi. Plus, the day before was very hectic as such. So, we told Funsu to meet us at 10 AM in the reception. The agenda was to see Paro Dzong and national museum in Paro and then drive to Chalela Pass. 
By the time we started for Paro dzong, it was already 10.30 AM – Funsu drove us to the Dzong. Like all Dzongs, there was lot to walk with a big flight of stairs. I did not any energy so just sat outside to bask in the natural beauty of the place.
There is a huge cypress tree (which is the national tree of Bhutan) at the entrance of the fort. 
There was a peach seller with a basket full of peaches sitting near the parking area. Funsu parked the car and i decided to explore the place.
Dzong had many visitors since it houses administrative offices of the district as well as a huge monastery inside.
For Bhutanese, it is mandatory to be in national dress if they are visiting any dzong or national monuments or monasteries.
Outside the Dzong, there is huge stretch of lush green fields which is spread on two sides of the building.
Another name of Paro Dzong is Rinpung Dzong – every year, a great annual festival called the tsechu is held at the Dzong.
After spending 40 minutes in the premises, we asked Funsu to take us to Chelela pass – this pass is at an height of about 13000 ft. It is an hour drive from Paro and passes through dense pine and cypress forests. We could also spot blue poppy at many places on the way up to the view point. On one side of the pass, one could see Paro valley and on the other side is Haa valley.
Many visitors were clicking pictures at the view point which was at the top of the hill.
There was a food bus as well – the lady was selling masala tea and maggie. It was a pleasant suprise to get maggie here and ofcourse I ordered it.
Another lady was selling caps and socks from her van.
We spent sometime eating and sipping tea enjoying views on both sides of the pass – after about an hour, we decided to drive back.
I asked Funsu to drive us to river Paro – wanted to sit with my feet dipped in it for sometime.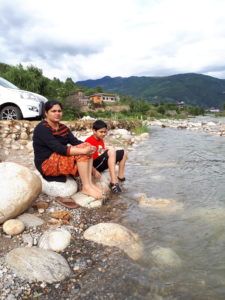 We reached river banks by 5.00 PM and spent sometime there. Water was crystal clear and quite cold.
By around 7.30 PM, we strolled to Mountain cafe and had dinner – again, food was yummy. I finished some last minute shopping. On our way to hotel, Funsu invited us to his home and his wife was also very hospitable just like him. We were offered hot butter tea in accordance with the Bhutanese customs.
We reached hotel by 9 PM and I started packing for journey back home. We had flight to Delhi at 9 AM the next day and had asked Funsu to meet us at the reception at 7 AM (although it is required to be at the airport two hours in advance but Paro being a small airport, even 1 hr in advance works).
Next day, we were at the airport in time – flight was also in time. I somehow developed a deep connect with the place and did not want to leave Bhutan – it is one country which will always stay close to my heart and I will love to visit the country whenever life takes me there.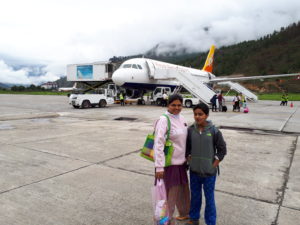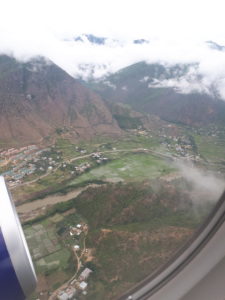 i left the place with a very heavy heart – a piece of my heart was left behind as i fell in love with everything about the place. People, place, climate, mountains, hills and valleys seemed to hold me back. I being a very hill loving person might settle in that country one day…
Hope you enjoyed reading Paro, Bhutan!
Continue to explore my other memoirs at destinations…..