Jun 2017/ Continued from Travel to Thimpu, Bhutan……
We started for Punakha at around 9 AM on 27th June post breakfast. Punakha was the capital of Bhutan and the seat of government until 1955, when the capital was moved to Thimphu. It is about 72 km away from Thimphu and it takes about 3 hours by car from the capital Thimphu.
The plan was on the way to stop at Dochula Pass. 
A word about Dochula Pass – The Dochula Pass is a mountain pass in the snow  covered Himalayas within Bhutan on the road from Thimpu to Punakha where 108 memorial chortensor stupas known as "Druk Wangyal Chortens" have been built by Ashi Dorji Wangmo Wangchuk, the eldest Queen Mother. (As sourced form Wikipedia)
We reached Dochula Pass at around 10 AM. The pass is located at an elevation of 3,100 metres (10,200 ft). It was all misty and foggy. From Dochula Pass, Sam said that we could see snow peaks of Himalays but due to mist we could not see anything
To the east of the pass, the snow clad mountain peaks of the Himalayas can be seen prominently (if there is no mist) and among them is the Mt. Masanggang at 7,158 metres (23,484 ft) which is the highest peak in Bhutan, known in local language as the Mt. Gangkar Puensum.[7] The road east of the pass runs steep for some distance and then takes a left turn towards Punakha.
At Dochula pass, apart from the chortens there is a monastery called the Druk Wangyal Lhakhang (temple), built in honour of the fourth Druk Gyalpo (head of the state of Bhutan), Jigme Singye Wangchuck; the open grounds in its front yard is a venue for the annual Dochula Druk Wangyel Festival (as sourced from Wikipedia). We need to trek up to the Lhakhang.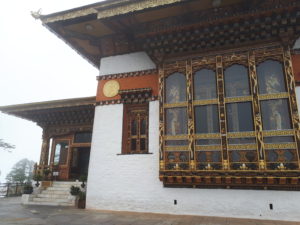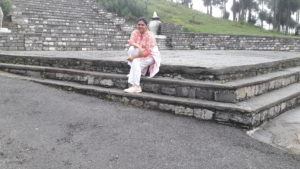 In the temple, no mobile or cameras are allowed. Even women are not allowed. So I waited outside enjoying the view of the place.  There is a small cafeteria in the temple premises which serves hot tea and biscuits.  We placed the order for tea and went and sat in the outside lawn.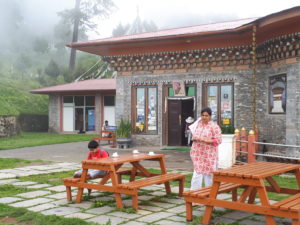 It was a beautiful  view all around and I just did not want to move out of the place.
There is also a souvenir shop near by. I went and checked it out. There are bags, purses, bells and other ethnic stuff which one can buy. But things are expensive here and I would not recommend buying them from this place.
Some tourists were busy clicking pictures while others were busy enjoying their hot cuppa in this beautiful weather. It was getting cold and I had to put on my fleece jacket.
After spending about 1.5 hrs, we started descent to Punakha valley. We reached Punakha by around lunch time 
I had pre-booked RKPO resort for a day including breakfast and dinner. RKPO is a fantastic resort with very clean rooms and excellent views of the valley from rooms.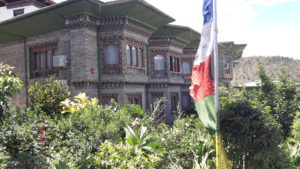 Hotel staff is also very warm and welcoming. We were hungry and straight away headed to the dining area. They have a huge dining hall with facility to sit in the open. The open area overlooks amazing valley views. It is very breezy always in this place owing to its location and that day also it was quite windy. We ordered pasta and bruchetta (must admit both were very yummy).
On the agenda for Punakha were Punakha Dzong, Chimi Lhakhang and drive to Wangduephodrang. After lunch, we asked the hotel to arrange for a cab for local site-seeing. The travel desk suggested that we should visit Khamsum Namgyel Stupa. They recommended that it is the place to visit for breathtaking views of the valley but we were also cautioned that the place has to be trekked for good 1 hr.
We decided to explore the Stupa – it is about 7 Kms drive from our hotel and was built by the Queen mother. The temple is a beautiful example of the Bhutanese art and architecture.
It is located on a ridge at Kabisa in Punakha overlooking several villages. We started trekking and it took us good 1 hr to reach to the Stupa. But the place and the trek is worth it. The whole place is mesmerizing.
We had to go through fields where farmers were busy – I could spot lot of chillies in the farms. Bhutan is very famous for its chilly and for its spicy food.
A word about use of chilly in food. There is a dish called Ema Dachi – it is boiled rice mixed with cheese and chilly. It is must try when you are in Bhutan.
Coming back to trekking to Stupa. We had to cross a river on the way to Stuppa. The path to the Stupa is not well laid and will give you a feel of trekking through the jungle.
We reached back to the base (where our cab was waiting) by about 5 PM. With all the sweat, I so much wanted to take a dip in the river but just had to contend myself by washing feet and face with the chilled water. Water was very clean. There were many tourists who were planning to get into a raft for water rafting at this place.
With an iternary already in place, we quickly got into the car to head towards Punakha Dzong.
This Dzong is located at the meeitng point of Pho Chhu (male) and Mo Chhu (female) rivers in the Punakha valley. It is one of the most beautiful Dzongs in the country and was the former capital of Bhutan till 1955. The Dzong is now the summer residence of the Central Monastic Body.
We reached Dzong by about 5 PM and it was closed by then (tip: if you are planning to visit any Dzong, please be there by 5 PM as they won't allow you after that. For more tips, please visit my page, Tips for Bhutan)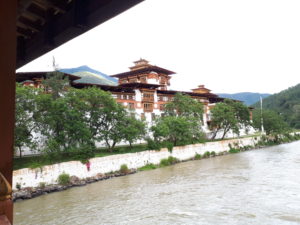 We were not allowed to enter in the Dzong and could only manage with the outside views.
There is a wooden bridge which connects the entrance to the main Dzong door. Pho Chhu flows under the bridge. The legend says that the two rivers personify male and female and the rivers have different colours.
At the confluence, we could see one of the rivers is with a slight bluish hue while the other one is slightly brown in colour.
After spending 20 minutes in the premises, we were asked to leave as the main entrance of the Dzong had to be closed for public. We felt somewhat disappointed that having come so far we could not see the Dzong.
Next halt in agenda was Chimi Lhakhang (monastery). This monastery is very near to RKPO resort and was visible from my room.
It is one of the most popular tourist spot located oon a ridge surrounded by beautiful paddy fields in Punakha. One has to walk through the Sobushka village to reach the monastery road. This temple is associated with Lama Drukpa, the Divine Madman. There are several stories associated with the temple that any childless couple can be blessed with children here if they visit this temple. This temple was built in 15th century.
Lama Drukpa advocated the use of phallus symbols as paintings on walls of houses and one can see each house in the village has a big painting of phallus on their main entrance. The tradition at the monastery is to bless pilgrims on the head with a 10 inch wooden phallus. Traditionally, symbol of phallus in Bhutan has been intended to drive away the evil eye.
It took us about 30 minutes to trek to the temple but temple was also closed (again almost all temples are closed in Bhutan by 5 PM
On our way back, we went to a souvenir shop and saw many wooden phalluses on display to be purchased. People in the village wear a talisman made of phallus in their necks to face the evil eye.
We were tired after trekking to two monasteries and straight away headed towards the hotel.
I had pre-booked dinner with RKPO and after freshing up headed towards the dining area.
The chef at the hotel recommended that we must try 'ema dachi' and so we did. We also ordered pasta.
By the time, we hit the sack it was 9 PM.
Next day after breakfast – the itenary was to drive to Wangduephodrang and then push towards Paro. There is not much to see at Wangduephodrang (there was a famous Dzong but that is under renovation as the old Dzong was ruined in fire). We checked out of the hotel at 11 AM and drove around  Wangduephodrang town before hitting the road to Paro..
Continue to read Paro, Bhutan