Meghalaya – Gateway to North East India
It was end of March 2023. With board exams behind Mrridul, it was time to take a break. Deliberations were on full swing. Choices were to explore North East or visit our as usual destination, Himachal Pradesh.
Finally we chose Meghalaya, a state in North East India. Also known as one of the seven sisters.
A brief about Meghalaya – it means home of clouds. It is bordered by Bangladesh on one side and by Assam on the other side. It has a presence on the world map due to Cherrapunji. The town of Sohra in the Khasi Hills south of capital Shillong holds the world record for most rain in a calendar month, while the village of Mawsynram, near Sohra (Cherrapunji), holds the record for the most rain in a year. You can read more geographic and historical information about Meghalaya from Wikipedia.
Now let us come back to my visit.
We planned for the visit from 27th March to 2nd April – primarily to coincide with school reopening time after the exams.
There were two options to go there – either book a direct flight to Shillong with a stop over in Guwahati or go by flight till Guwahati and then drive down to Shillong. We chose later as the stop over at Guwahati was quite long. The next decision which was to be made was to keep the base hotel fixed or keep changing the hotels as per the destinations to be visited in the state (as travelling long distances between two districts by cab can be very tiring). We chose to keep the base hotel fixed. And the main reason for that was the availability of good hotels in Shillong and even in Meghalaya. Shillong had two options to choose from – Marriot and Taj. Rest of the state did not have many good options. So we zeroed on Marriot.
Hotel fixed and booked. Flights booked. We were ready to go.
27th April – boarded the flight from Delhi to Guwahati
It was Vistara. We started at 9.10 AM and we reached Guwahati by around 1.30 PM. Once you reach Guwahati, you get multiple cab options. We hired a cab and reached Shillong by about 5.30 PM. Some images from the Shillong airport.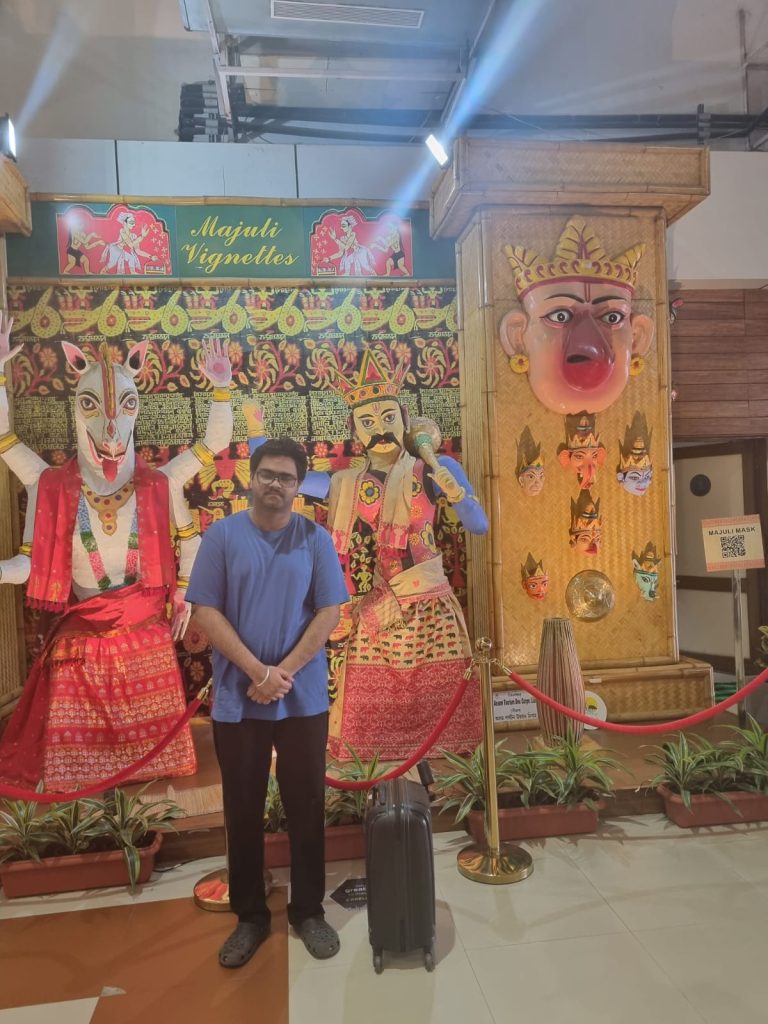 Just on the outskirts of Shillong is a huge lake – a major tourist attraction, called Umiyam lake. It was late and at around six, it was dusky and we could not have ventured into the lake at that hour. Even boating was closed for the day. But nevertheless, we did stop over for a few shots.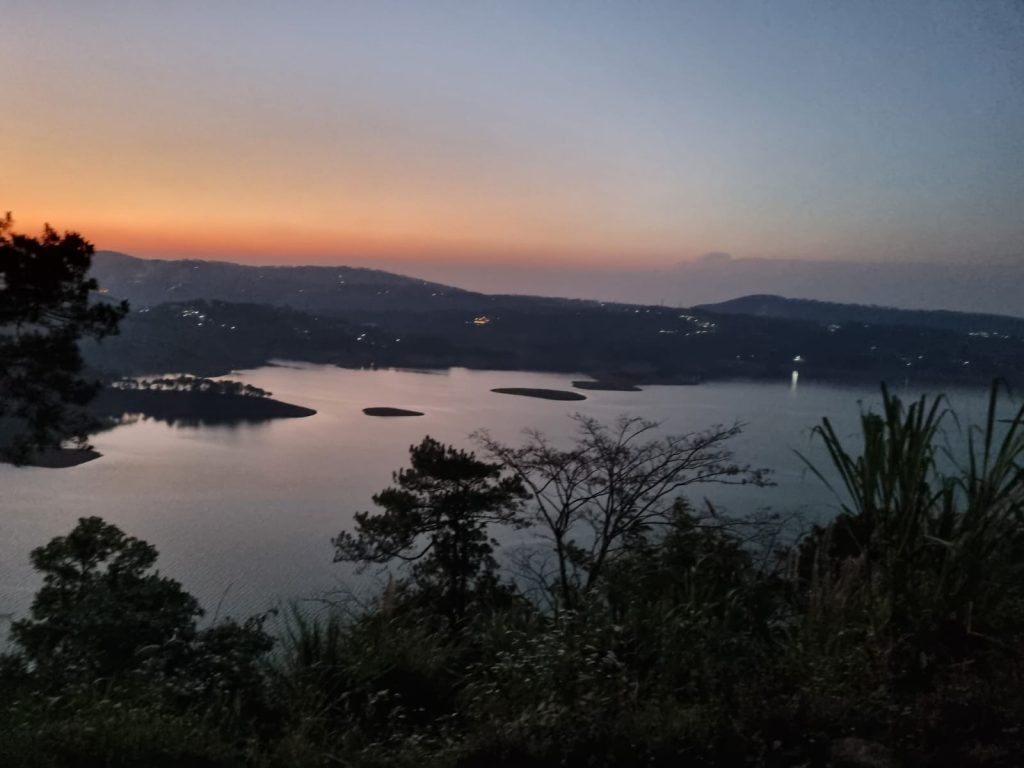 On the way to Shillong, we did not stop for lunch as we had more than enough meal on flight to Guwahati courtesy Mrridul – all sorts of Cup-o-noodles and cookies. But we did stop for fresh Pineapples – that is a treat in Meghalaya. The state is very famous for Pineapples and you can get freshly cut pineapples almost everywhere on highways and on tourist spots.
After stopping at Umiyam lake for an hour, we reached hotel by about 7.00 PM. It was time to freshen up after a day's journey and head straight to the lounge for a sumptuous buffet. It was lavish spread and we would have hogged our hearts out.
The good part was at the airport, we did dig into some tourist itineraries so as to plan our seven days here and also on the way to Shillong we had a word with Ram Bahadur – our driver who became our local guide and driver for the next seven days.
Day 2 – Laitlum Canyons, Shillong peak, Airforce meuseum and Mawphlang Sacred Forest
Ram Bahadur waited for us in porch at 8 AM. We rushed through the breakfast and headed for exploring the jungles and vast lands. Our first stop was as at Laitlum Canyons – I would never have seen such vast stretch of lands with no man around. Hardly few tourists and local people, the place is a miniature version of the famous Grand Canyons. Windy, serene, vast blue skies, peaceful are few adjectives I can use to define the place.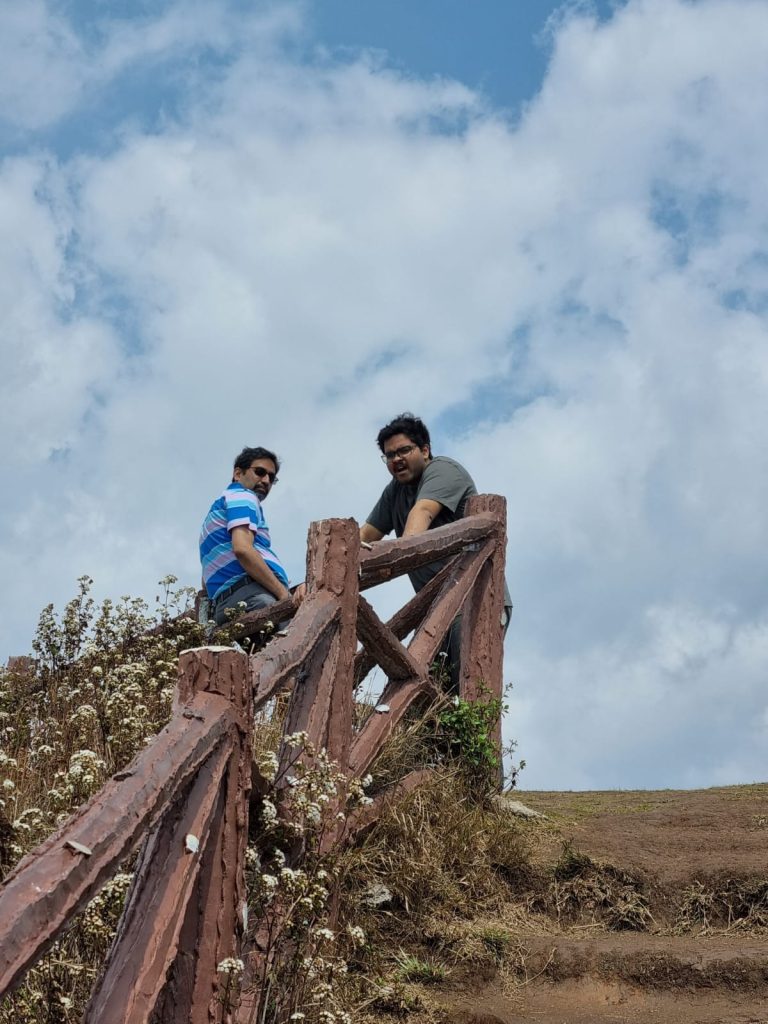 Next stop was at Shillong peak. Hosted within the premises of Airforce area, certain rules need to be observed when visiting this place. Located at an altitude of ~6500 ft, the place gives a sneak view of the entire Shillong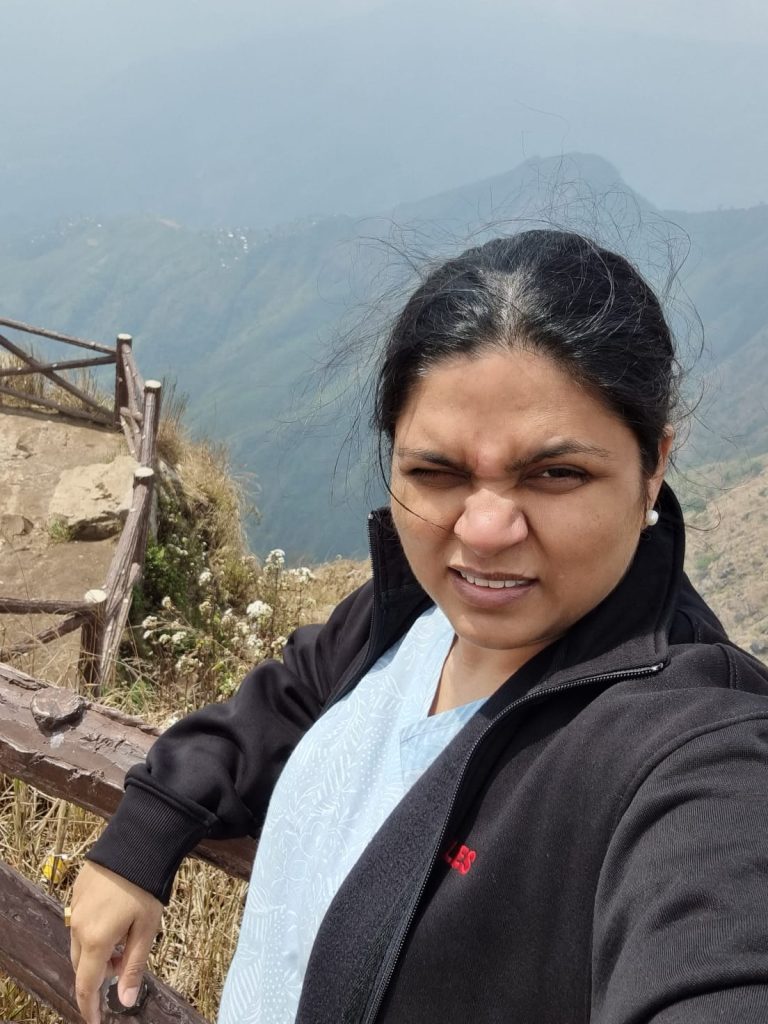 Next stop was Mawphlang Sacred Forest – speciality about this place is that it is virgin beauty. Raw. Untouched forest area. No contamination from any outsiders. Only water bottle is allowed inside and you cannot venture inside the forest without a guide. It is a very ancient forest which holds a very special and sacred place in the heart of local KHASI tribes.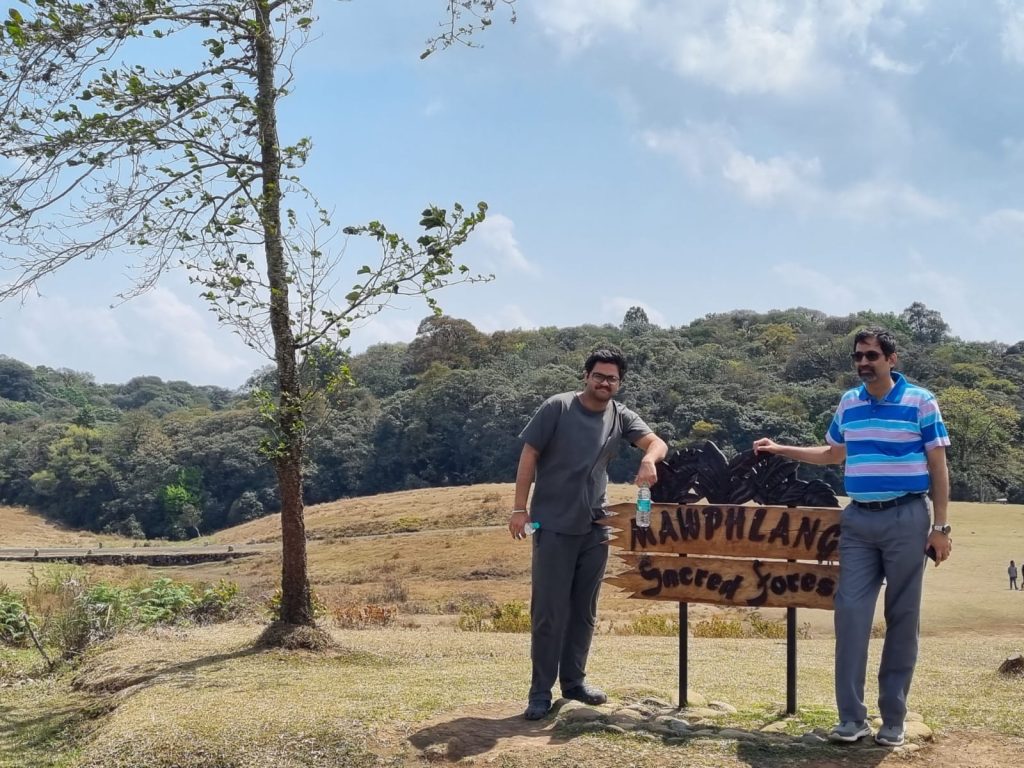 The last stop for the day was at Airforce museum – for two reasons, one my son's love for the forces and the planes and two to eat some good food. It is restricted to capture photos of the museum. So I do not have any to share here.
Day 3: Dawki river, Mawlynnong village
Dawki river is between India and Bangladesh – it is on the border of the state and the main feature of this river is that it is transparent and you can actually see the river base. The water is supposed to be so clear that boats seem to float on it. Unfortunately when we went, rain had just fallen and it disturbed the river base.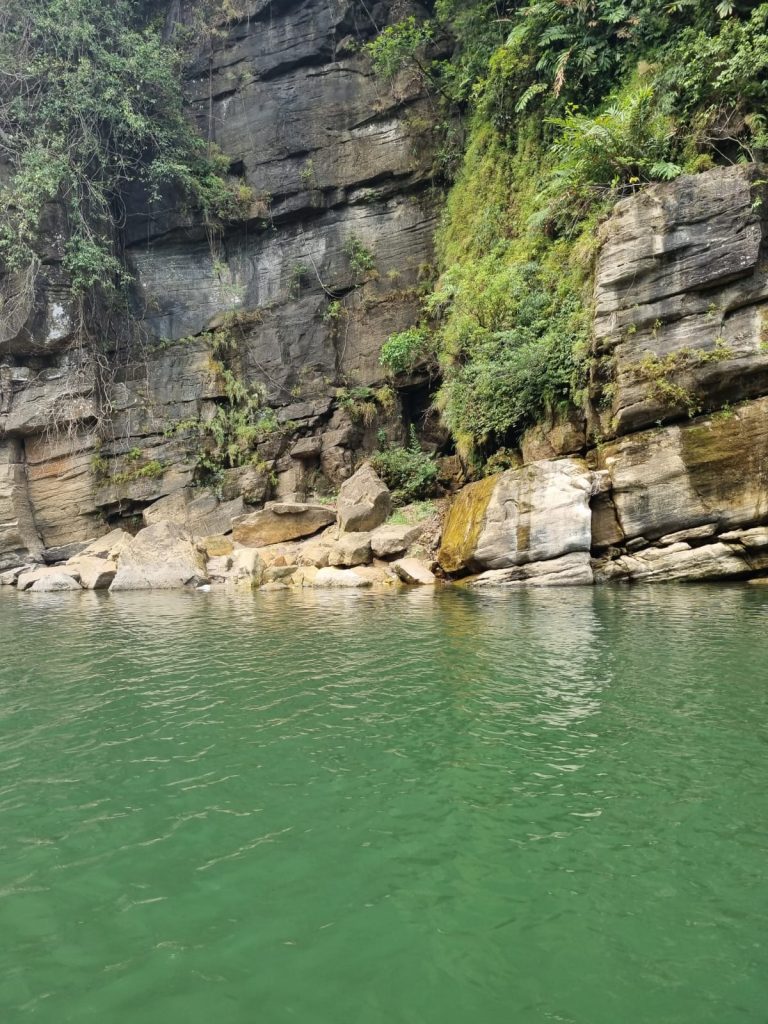 From here we went to explore Mawlynnong village. It has earned the reputation of cleanest village in Asia. I found almost all the villages in this side of the country clean and like this village. There are some souvenir shops outside the village where can you pick stuff made out of bamboo – as the place is rich in bamboo cultivation. You can also buy some local shawls (a warmer) made by local tribes on tribal patterns. For lunch, there are two-three local eateries outside the village where you can stop for food.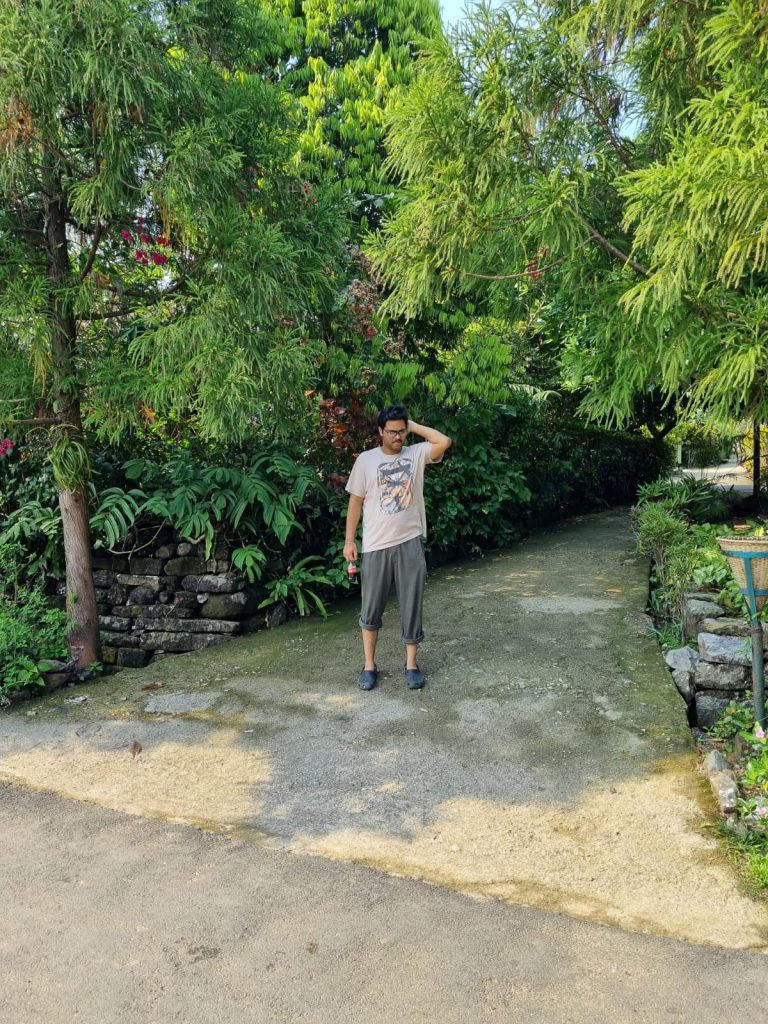 We also went on to explore balancing rock near by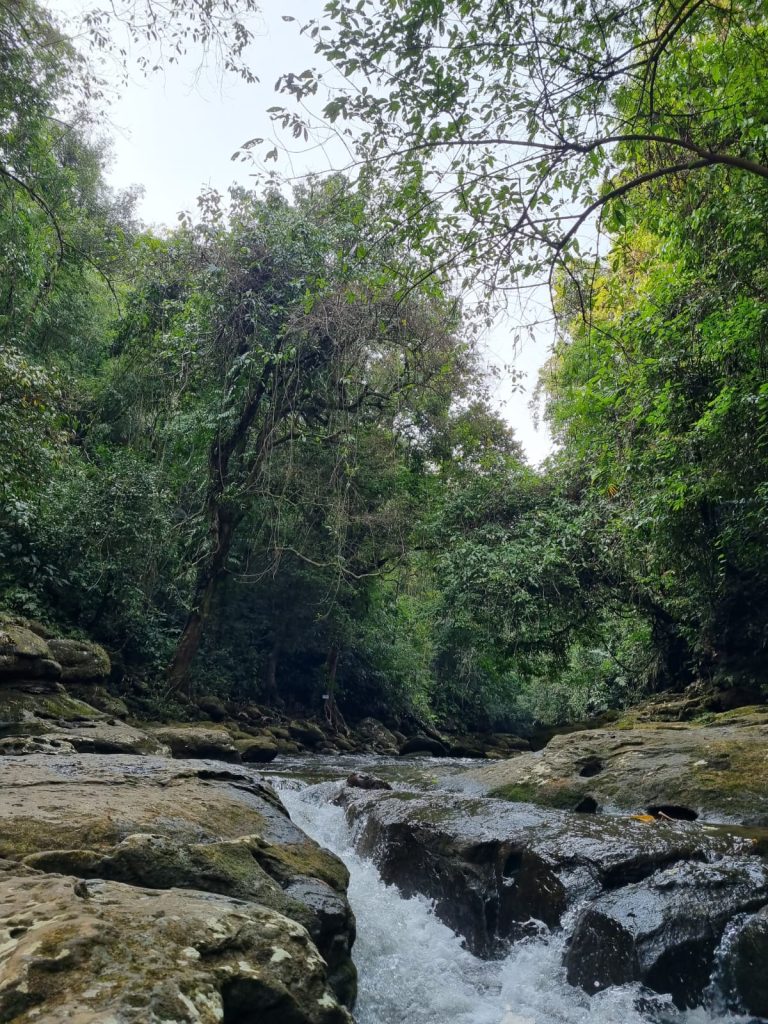 The day ended with a sumptuous meal at JIVA restaurant on MG road in Shilong. Service is not that good. But I liked the food especially different kinds of DOSAs and other south indian food.
Day 4: Day dedicated to caves – Mawsmai Caves, Arwah Caves
Maswmai caves are more of an amalgamation of many spots put together – it is a good hiking place and half a day can be easily spent there. But if you really want an adventure, then you should go for Arwah Caves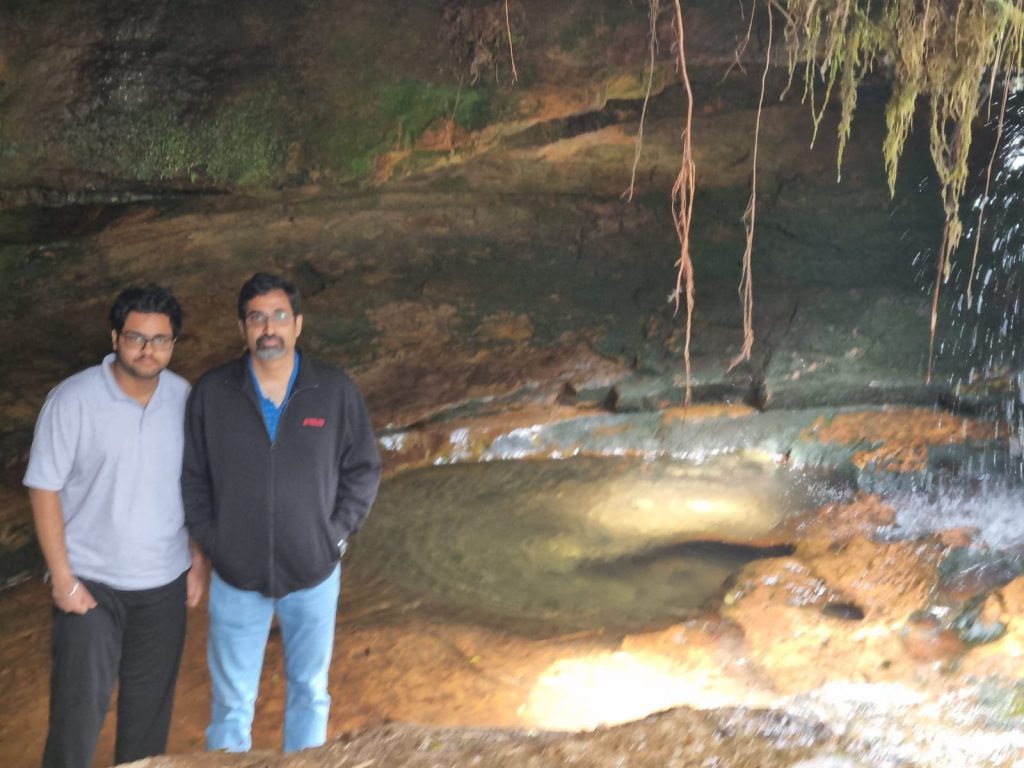 Day 5 – Umiyam lake, Ward Lake, Don Bosco Museum, St. Mary's Cathedral
Of all the other places, boating and jet ski is a must do adventure in Umiyam lake which is one of the largest lakes in the area.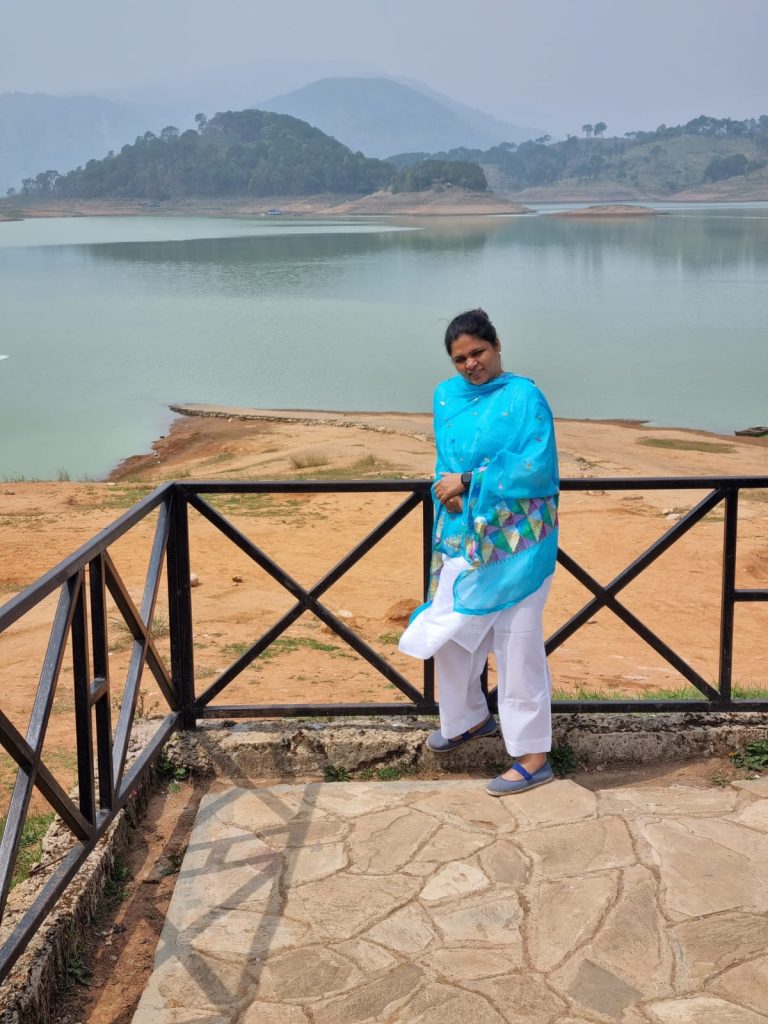 Don Bosco Museum is another place worth seeing – There are 6 to 7 floors each dedicated to the culture, history, civilization, tribes, weaponry, clothing, cooking methods etc. it is a must see if you are a history freak.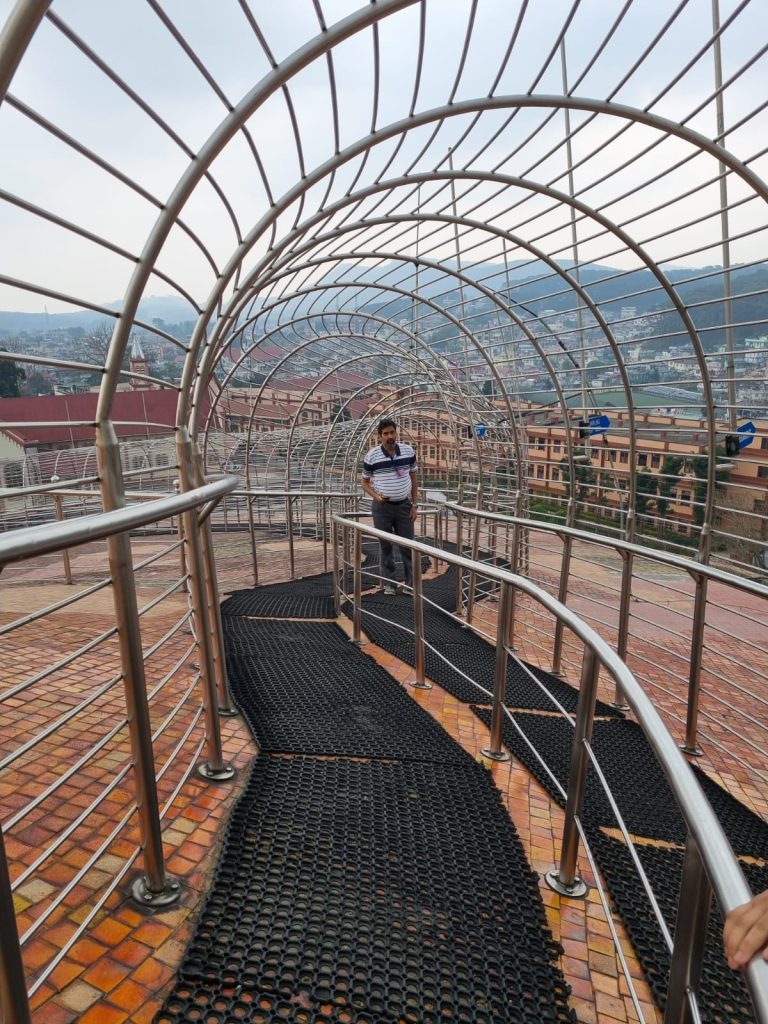 Day 6: Double Decker Bridge and Rainbow bridge
Double Decker bridge is another must see place – it is living root bridge of its kind. With a trek of about 4000 steps one way, I would not have been able to do it had it not been for a strong motivation. Enroute there are eateries offering you Maggi, chips, biscuits and water – very similar experience to any other trek such as one to Tiger monastery in Bhutan.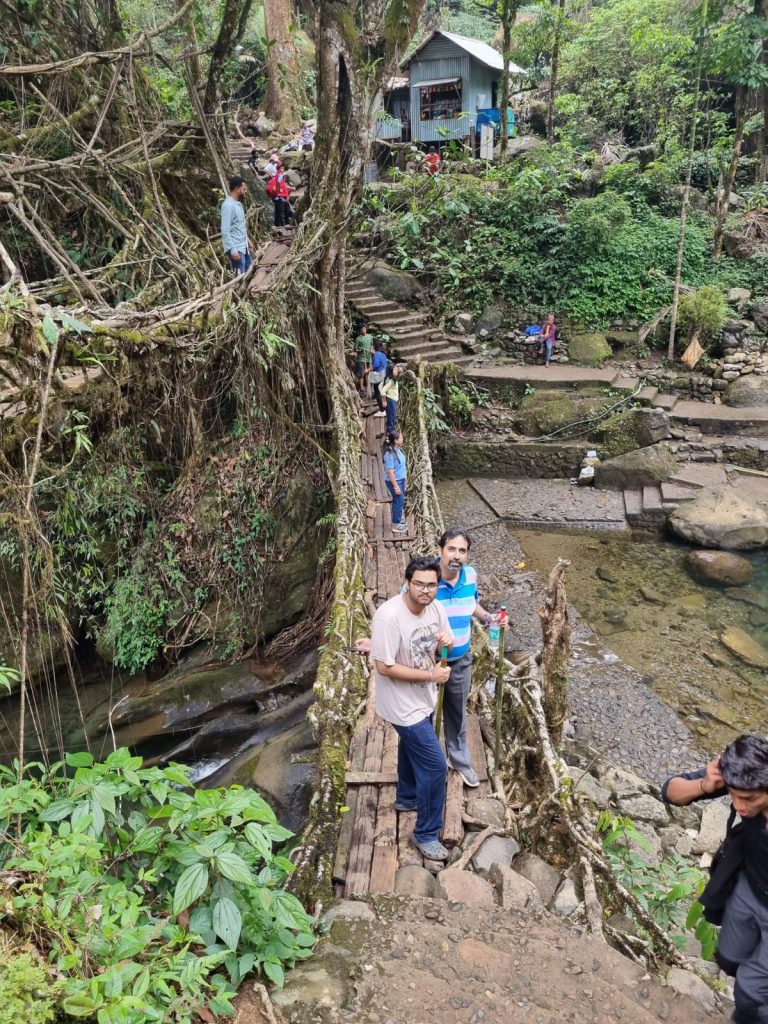 Day 7 – back to Delhi via Indigo flight
Total expenditure – about 1.5 lacs including tickets and stay in Marriot
Shopping – you can buy some souvenirs if keen. There are some tribal pattern shawls and stoles also available but again it depends on your interest