May 2015: It was the afternoon of May 2015 – after a hectic first half in office, I decided to take a tea break. I was joined by my five buddies in office…we usually took a tea break to get over the monotony of work and to get recharged for work.
My office is on 14th floor in cyber city  and when you look out of the window in the cafeteria – all you can see is concrete jungle spread over miles…there was not a single bird in the sky, not a single leaf moving, it was hot and scorching…wind, rain seemed to have eluded Gurgaon for ages…we all were yearning for rains, pleasant weather – a respite from the heat of Delhi!!
Suddenly, I said let us go to some hilly area – let us plan a trip..
It struck the right note with all of us – Yugank jumped at the idea. He suggested let us go to Hemkund Sahinb. I was in. So were Pranshu, Varsha and Priyanka. Nancy was new to the group, so there was not much enthusiasm from her.
In the following days for about a month, we used to toil with the idea daily – how many days of leave should be taken, whether to explore nearby places or not, what is the budget, how do we travel etc. etc. I had been to the place earlier, so i knew what to expect..
Finally, I started chasing Yugank to book the tickets – Pranshu and Yugank booked the tickets for 8th July.
The itinerary was:
8th July – board flight to Rishikesh (Jet Airways – it takes about an hr). Reach Dehradoon by 4.00 PM. Then take a taxi to Rishikesh (40 kms from Dehradoon). From Rishikesh take a taxi to Joshimath  (will take 7-8 hrs).Joshimath is about 40 kms from Govind Ghat – base for trek to Hemkund Sahib and reach Gobind Ghat on 9th July by morning. Darshan on 10th July. Valley of flowers on 11th July and back to Delhi by taxi and train on 12th July.
But destiny had a different itinerary planned for us…beginning of July, news started trickling in on all channels that there were massive rains and landslides in hilly regions of Himachal, Jammu and Uttrakhand. Flood like condition was looming in Kedarnath, parts of Garwahl region – then there were news specific to Hemkund Sahib. More than 1000 yatris were stuck in Hemkund Sahib as trek road had been broken due to flooding waters of Alaknanda at 2-3 places in the  19 kms trek..
Hearing all this, Priyanka and Varsha felt it was not safe to proceed with the trip.
Eventually on 8th July, three people remained to embark the journey to the 'land of gods – dev bhoomi'!! (the trip was for 5 days and we had packed 6/7 change of clothes, sweater and windcheaters – the idea was warm clothes but light as one had to trek 19 kms wearing those clothes. Plus Hemkund Sahib was built on a glacier. Temperatures even in June would be around 1-2 degrees. Other essentials we carried were umbrellas (as it was raining), torch (as we had read that during trekking at night, there would be danger of wild animals), medicines (first aid kit), oxygen cylinder (as the shrine is at a height of 15000 ft), some eatables, two pair of shoes (as it was raining and one might get wet). I knew there is no need to carry raincoats (they are very readily available on all the shops at Gobind Ghat)
The flight was at 2.30 PM. We reached the airport by 1.55 pm as we were stuck in traffic while on way to T3. Ground staff refused to let us on plane..we missed the flight..what an amazing start to the trip..All three of us were now rethinking of proceeding with the trip..was it a signal from God himself that we should drop the idea. There were already phone calls from family and friends advising of not to proceed given the danger of landslides and floods…
All three of us were sitting in T3 terminal and thinking of what next to do…should we go home and then say what?? or should we still continue the journey???
We decided that going home will be a foolish idea (leave and due permission was already taken from office and home..how could we waste it)..okay, then let us go!! Yugank and Pranshu started calling all possible cab agencies who could drive us to Rishikesh.
Finally we zeroed on Siya Travels – called for an Indigo. The rate for 7 hr drive to Rishikesh was INR 4000. The cab came in 1 hr. We boarded the cab and started our journey to Rishikesh
We stopped at a drive through outlet of MCDonald's on our way at about 8 PM on the main highway to Rishikesh. Driver 'Surinder Pal' was quite efficient and we landed in Rishikesh at about 11 PM. We went to Gurudwara at Rishikesh to enquire about the taxi for Joshimath. Sevadars at Gurudwara said, no cabs are allowed to go forward in hills at night. The first cab in the morning at 4 AM will go!! (tip: if you have to go to Joshimath, ensure you reach Rishikesh before 12 noon so that you can embark further journey the same day)
We had no option but to halt at Rishikesh – at night it was difficult to search for hotels. We spoke to police at checkpost. Atleast they will not mislead us! The policemen directed us to few hotels.
We checked out one or two options and then zeroed on "Green hills hotel" – per room rate was INR 1100. Very neat and clean. It is a new property and well maintained. The owner showed us the rooms and was very hospitable.
We quickly checked in, changed and soon retired to sleep – as all of us very tired. Had already travelled about 300 kms by road. I had back problem and was carrying my back rest and belt with me. Travelling by indigo was very comfortable
9th July 2015: Yatra – Sri Hemkund Sahib – Rishikesh to Joshimath
We got a cab from the gurudwara at Rishikesh – Driver was Bhat. He agreed for INR 3500 and we began the next phase of journey. Hills were at their best beauty. Freshly washed leaves were looking so beautiful. Air was fresh. We could breathe in distinct aroma of hilly flora..Ganga ji was following us through the valley. It felt as if god had etched the scene himself..
On way, we stopped at a dhabba at Rudraprayag and took alloo paranthas – the paranthas were heavenly. We also took ginger cardamon tea or masala chai…by the time, we finished our breakfast, it had started to drizzle again.
We reached joshimath at around 1.30 PM…we had booked our hotel in advance and straight away went to 'hotel mount view'.
The hotel is a budget hotel but quite neat. Best part was the view – you could see the majestic snow clad hills from anywhere now. Joshimath is a very beautiful place. (From Joshimath, there is a ropeway which takes you to Auli – another beautiful hillstation just 15 kms from Joshimath. Auli is known for its ski resorts)
We freshened up in an hour and decided to start the next phase of the journey. All of us dumped our majority of the luggage here and took bag packs as the trek was going to take good three days – so we packed clothes, umbrellas and other necessities. It was decided that we will take lunch at an old restaurant in the Joshimath bazaar by the name of 'Nav Durga  Hotel' – food was very yummy.
We hired another cab  as Bhat was reluctant to go till Govind Ghat (INR 35 per person if you hire a shared taxi or INR 500 for the whole cab) and proceeded on our journey to Govind Ghat.
From Gobind Ghat to Govind Dham
By the time we reached Govind Ghat, it was 3.30 PM. On the way, we saw landslides at many places. Flow of river was also turbulent and wild at many places. We could guage that news were not all that exaggerated. Yugank and Pranshu were both scared at few places and we again thought whether to proceed was a good decision or not!!
But again sense of faith in God prevailed and we continued…
Govind Ghat (or Gobind Ghat) is the base station for 19 KM trek – 13 km to Govind Dham situated at Ghandharia village and 6 km further to Hemkund sahib. There are gurudwaras as well as hotels and one can rest and have food. There are shops to buy eatables, raincoats, walking sticks, shoes etc. as well as small momentos.
Our plan and the itenary schedule was to reach Govind Dham the night before (and given the airport fiasco, we had already lost a day). So we decided to not to go to the market or stop for lunch and straight away headed to the entrance  of trekking towards Govind Dham. Govind Ghat is situated on the banks of Alaknanda river. You have to cross a bridge over the river to begin the trek. The river was quite violent at this point. In the floods of 2013, the old bridge was washed away. In 2014-15, army had worked day in and day out and new bridge had been erected which was inaugurated in 2015 June.
We reached the entry point of the bridge and were about to begin the journey but were stopped by two constables. They said one cannot start trekking later than 3.00 PM. We argued that it was only 30 mins late. They refused saying that at night wild animals come on the trek and that can be dangerous. We begged but to no respite (our morale went down..Pranshu and Yugank were very upset..and i could sense that..budget was a major concern as we had decided that this will be managed in a less budget..)
The sevadaar there suggested helicopter is a way to go – it will take you to Ghangharia in 5 mins (Deccan flies helicopters and charges 2700 per person for 13 km flight). We were running out of time and quickly decided to grab that option. We had to trek down by 11th july. So had no option but to reach Govind Dham today in any case. Hence, we took the plunge of flying to Ghangharia.
There were 6 pessengers in the Deccan helicopter – pilot came, all checks made and we were good to fly. I was sitting in front with pilot and Pranshu. It was my maiden flight in helicopter and was very scared. We were instructed not to move our heads or hands (so as not to distract the pilot). The base of helicopter was transparent and we could see the ground. Final signal came and pilot started ascending..He had a jockey stick kind of lever in his hand for changing directions..it was an awesome view from the top..we were flying uphill in the direction of origin of river. Within 5 minutes, the joy ride came to an end.. we had reached Govind Dham.
The temperatures had dipped drastically….we could see snow much clearly now on mountains…there was fog and mist in the air..the views were just astonishing..hills surrounding some level ground on all sides..there was light drizzle..pine trees..branches of few trees were loaded with flowers..birds chirping..nature at its best..
We had to trek for 1-2 Kms from the helipad to the Govind Dham Gurudwara. There are lot of options in case you are not able to walk. You get ponies as well as Pithoos. Pithoo is a person who has a big basket tied to his back in which you can sit comfortablly. There are also porters who offered help to carry our luggage. We decided to hire a porter to take our luggage to the Gurudwara. He charged INR 100 for each bag.
We reached Govind Dham at around 6 PM. It was getting dark and misty. It was extremely cold as well. We hired two rooms in a local Dharamshala (there are no fancy hotels at this height) and ordered for food.
There are no geysers in the room – I wanted to take bath and ordered for a bucket of hot water (which is also INR 100). After freshing up, we visited the Govind Dham Gurudwara. It a pleasing site to see the same level of dedication and cleanliness across all Gurudwaras. Sewadaars were busy taking care of the place.
The atmosphere was very full of spiritual energy – a feel of hills, mist, cold, shabads, garam chai, yatris pouring in from Govind Ghat as well as Hemkund Sahib since Govind Dham is mid way to both the places. Just outside the Gurudwara, there was a halwai (sweet maker) who was serving hot badam milk. Yugank and Pranshu lept for it.
After spending about 45 mins in the Gurudwara and the small bazaar, we headed back to the hotel and gobbled up the hot and fresh food. Post that we retired to our rooms since we had to begin the next leg of trek early morning next day.
10th July 2015: Yatra to Hemkund Sahib – the final trek from Govind Dham to Sri Hemkund Sahib
The morning air was clear (in case the weather is not fine, Sewadaars don't allow you to trek from Govind Dham to the main shrine). We were lucky that mother nature was with us. Although the previous night it was drizzling, it was very clear now.
We quickly freshended up and had gobhi paranthas in the breakfast. I hired a Pithoo while Yugank and Pranshu decided to trek it on foot. We also hired a Pithoo for taking our luggage since all of us planned to take a dip in the holy lake before visiting the main shrine.
The trek from Govind Dham to the main shrine is about 6 Kms but it is very steep and very dangerous (especially during monsoon since the rocks are very slippery). By the time we began, it was around 7 AM and we had to be back by 4 PM (since after that the weather becomes very foggy and it is extremely dangerous to trek). On the way we saw the most amazing flora we have ever seen. We were so close to the nature. There were very different kind of flowers and trees. The air was abound with fragrance from these plants. It was so green and so fresh that whole body could feel the freshness. On the way, there are many places where you can take tea or some dry snacks such as biscuits or chips.
From Gangharia village at Govind Dham, there is a trekking route to valley of flowers which I plan to cover one day. We could also see river Alaknanda at many places closely following us.
There is glacier which has to crossed before you reach the main shrine
We reached the main shrine at around 10 AM. Gurudwara looks like a place in heaven situated on the banks of a holy lake.
It is situated at a height of over 15,000 feet above the sea level and has emerged as a popular centre of Sikh Pilgrimage which is visited by thousands of devotees from all over the world every summer. According to Bachitra Natak, the autobiographical account of the tenth Guru, Gobind Singh, it was at Hemkunt 'adorned with seven snow peaks' that he meditated in his previous birth. (you can read more details at http://shrihemkuntsahib.com/home.html)
We took a dip in the holy waters  – lake is partially frozen even in peak summer. Temperatures of the water are almost sub zero. There is a separate arrangement for women yatris to take bath. After the bath, my body was numb for few seconds.
After holy dip, we entered the main shrine. The tranquility of the place just seeped into my soul. It is so calm and peaceful that you have to be there to experience it actually. We were not allowed to take cameras inside or even mobile phones. The place is extremely cold and blankets are provided inside the gurudwara so that you can sit and pray.
We spent about 30 mins in the main shrine. Outside, langar of chai and moong dal kichdi (kichdi is a porridge made of rice and lentils) is served hot to the yatris. We also had langar and rested for some time. At about 12.30 PM, we started descending back to Govind or Gobind Dham. The place had become really misty by that time and it seemed that it will rain soon. It had started drizzling. Nevertheless, we had to continue trekking.
We reached back by about 3.30 PM and straight headed to the dining hall. For lunch, we ordered aloo-gobhi (pahari aloo gobhi is really must have as gobhi is locally grown and is very fresh) and dal along with tandoori rotis.
By the time we finished lunch, it was around 5.30 PM and we decided to visit the local bazaar again for a look around. The bazaar is a typical hill bazaar with narrow lanes which twist and bend on each turn. The place had started gathering some fog as the night was approaching.
We also visited the gurudwara and not to mention Yugank and Pranshu again had badam milk.
At around 8 PM, we decided to hit the bed as the next day it would be trekking down a stretch of 13 kms.
I was sure that I will be taking Pithoo again for trekking down and so, we booked the Pithoo for me.
11th July – Yatra to Sri Hemkund Sahib – Trek down from Gobind Dham to Gobind Ghat and proceed to Joshimath
After breakfast, we commenced trek down at around 8 AM. On our way down, we saw many stalls of medicines and seva shivirs offering langar. We stopped mid-way to have maggie and tea. Trek down was non-adventurous except that at few places road was very slippery. I just had to stay put in the basket behind Bahadur – my pithoo guy.
By about 3 PM, we reached back and walked down the suspension bridge at Gobind Ghat. We decided to visit the gurudwara at Gobind Ghat. It is very huge gurudwara and like Sikh pilgrimages, this one also was immaculately neat and clean. We booked a cab to take us back to Hotel Mount View at Joshimath and started at around 4 PM. By around 5 PM, we reached back Joshimath. The way is very picturesque with beautiful views. We thought of exploring the place and the local bazaar (Yugank had a request from another friend of his to buy kajal from the local bazaar – so we went hunting for that for some time). We also visited local temples and a Shankaracharya math. It is a very old math and must visit if you are in Joshimath.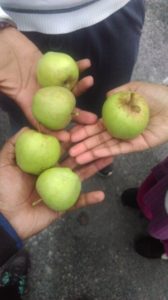 Someone in the bazaar suggested that we could get a ride to Auli as well. We took a local taxi and went up to Auli ski resort. On the way there were apple trees.
We plucked few apples but they were sour as this was not the season to pluck them.
At around 9 PM, we were very tired and proceeded for dinner at 'Nav Durga' again and headed back to hotel.
12th July – Proceed back to Delhi
Yugank and Pranshu arranged for a cab for Rishikesh and we started back for Rishkesh at around 9 AM. Large number of taxis ply from Joshimath to Rishikesh and vice versa. So it was easy to get one. By lunch hour, we reached Rishikesh and visited the Rishikesh Gurudwara. We had lunch on our way to Rishkesh at a local hotel.
We could easily get a cab from Rishikesh to Delhi and commenced our journey back to Delhi at about 2 PM. For snacks cum dinner, we stopped at the same outlet of MCDonald's on our way on the main highway. We reached back by around 8 PM.
Tips:
Carry woolens as it is very cold even during summers
Carry walking shoes and belt (for back) as you have to walk a lot
Extra cash does not hurt – we realized when we had to book helicopter
Try reaching Govind Ghat bridge before 2 PM
Hope you enjoyed reading the memoir..please explore other pages as well at https://traveltalesntips.com/destinations/