October 2016: Will we be in Andaman & Nicobar Islands in another 3 months..none of us had speculated earlier..not until that Diwali night…
We had a friends get together for Diwali at the Aryas in Punjabi Bagh (a little background about this group as you will find me referring to this group time and again. Aryas – Amitoj and Vatsala, Aroras  – Nitin and Shipra, Goyals  – Ankit and Neha and Seshadris – Girish and I..all of us are close family friends. Men of the four families were working colleagues at one point of time, then they became close friends and slowly the friendship pulled the women and children into it and now it is a big gang of twelve people. Last year, Goyals have moved to Dubai and needless to say they are the most missed especially on Diwali nights as they are champions in almost all card games) – now getting back to this particular Diwali. So, post dinner, there were conversations on where should we travel for winter vacations.There were lot of suggestions – Bhutan, Kerela, Europe and many others. Finally, the men took the lead and said they will get back with a plan!
By November, plans started firming around Andaman & Nicobar and we started taking quotes from various travel agencies. Finally, it was decided to collaborate with Thomas Group. They shared an itenary of 5N-6D under a group (we were already 9 and that by any means was a group) package called 'Experience Andamans With Neil Deluxe 5N-and-6D (Winter Special)'. I myself have never liked travelling under a group package (more to this later on) and would any day prefer my own itenary as that can be tweaked and twisted easily. Below is the itenary which was shared with us and I can say it bravely that this time we did not tweak the itenary (which is normally the case with me as it becomes very hectic. However, this does not mean that it was not hectic this time, but I was just determined to see everything which had been offered as part of the itenary and not be a lazy bum!)
We booked the package for the new year weekend – package included Flights Included, Accommodation at Deluxe hotels (1 night at Port Blair, 2 nights at Havelock, 1 night at Neil Island and last night at Port Blair again), Breakfast and Dinner, Sightseeing and Transfers as per itinerary, Sound and Light show at Cellular Jail, Boat ride to Ross Island, Snorkeling at Elephant Beach. Many things were not included which we had to pay for separately which I will talk about later on.
Dec 2016: Arrival at Port Blair – Andaman & Nicobar Islands
Itenary given for the day was: "Arrive at Port Blair and you will be taken to your hotel where you relax and rest and after lunch proceed for local sightseeing of Port Blair. Visit Corbyns Cove Beach. Later you will be taken to Cellular Jail (closed on Mondays) to enjoy beautiful Light and Sound show. Evening is free for leisure activities. Dinner and Overnight at the hotel."
The adage that every coin has two sides applies very perfectly to travelling through tour operators (positive being you get to see a lot and negative being that it becomes so hectic that you actually end up cursing yourself that why did you end up travelling with such a hectic schedule!)
So we began our journey and boarded the flight to Port Blair via Kolkatta (there are no direct flights yet to Port Blair from Delhi) – it took us about 4 hrs to reach Port Blair and Thomas Cook agents were waiting at the airport to take us to hotel.
We were waiting for a mini bus Another 5 people (a couple – Pooja and her husband and a family of three – Bhawna and her parents) joined us at this point. They had also de-boarded the flight with us and we were told they would be our co-travelers during the whole stay in Andaman.
We arrived at the Sentinel hotel by 1 PM – It is a four star property and quite neat and clean (you will see me mentioning this phrase quite often as I am a very finicky person about hygiene – my room needs to have fresh towels and linens.
I always make it a practice to check the washroom of my room before I settle down 🙁 . Some of my friends tease me saying I have OBC but cannot help it).
As per plan, it was decided that we will assemble in the dining hall in an hour or so – every body was tired, hungry and dirty (since many of us had not taken bath. We had left home at around 4 AM and by any means 4 AM on a December night is freezing cold in Delhi. Some of us were still in fleece jackets and were feeling the transitional change in temperatures).
Food was good – we had ordered paneer makhani and dal makhani (the whole gang minus one comprises Punjabis so had to be makhanis… the one who I am talking about is also half Punjabi).
After eating to our heart's content, we moved to the reception – bus was already waiting for us! Next on agenda was Cellular Jail. I had never seen a Jail before (and I am not suggesting that many of us would have seen one earlier) and this was all the more very special as it was known as  'sazay kala pani ki jail' in those times. So I was quite excited to visit the place. It has now been converted into a memorial.
A few words about the Jail.
Quoting information from Wikipedia, "the Cellular Jail, also known as Kālā Pānī (derived from Sanskrit words 'Kal' which means Time or Death and 'Pani' which means Water), was a colonial prison in the Andaman and Nicobar Islands, India. The prison was used by the British especially to exile political prisoners to the remote archipelago. Many notable dissidents such as Vinayak Damodar Savarkar, among others, were imprisoned here during the struggle for India's independence.  The construction started in 1896 and was completed in 1906 and British used it for political prisoners. The building had seven wings, at the centre of which a tower served as the intersection and was used by guards to keep watch on the inmates. The wings radiated from the tower in straight lines, much like the spokes of a bicycle wheel. A large bell was kept in the tower to raise an alarm. Each of the seven wings had three stories upon completion. There were no dormitories and a total of 696 cells. 
Each cell was 4.5 by 2.7 metres (14.8 ft × 8.9 ft) in size with a ventilator located at a height of 3 metres (9.8 ft).The name, "cellular jail", derived from the solitary cells which prevented any prisoner from communicating with any other. Also, the spokes were so designed such that the face of a cell in a spoke saw the back of cells in another spoke. This way, communication between prisoners was impossible. They were all in solitary confinement."
The jail was occupied by Brits till 1942 till Japan invaded the island and they stayed on till 1945. After independence, Govt. of India took over the jail and used it as a normal prison till about 1969.
Today, the complex serves as a national memorial monument. There are only two wings remaining of the seven wings. The others have been destroyed in wars or have been demolished by the govt.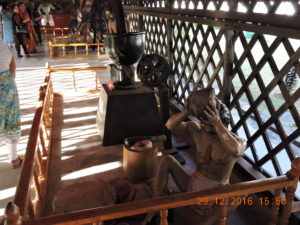 We saw cells, barracks, hanging cell, inspection tower in the jail. In some of the cells such as that of Veer Sawarkar, his belongings such as his blanket, iron pot for food are still preserved. After taking a round of the jail which included a visit to the roof of the jail (from where we could beautiful blue seas in the backdrop), we were asked to assemble in the main grounds for a music and light show.
There is a very old peepal tree in the courtyard near the main entrance (older than the jail as well) and it is witness to the entire construction of the jail and how it was being used! Entire light and music show is narrated by a fictitious character which represents this tree – how the prisoners were treated with no food for days, with no one to talk to for hours, with no light in the cell after sunset.
The place started to give a very eerie feeling (now since we knew what kind of life the prisoners had to lead). Lights were effectively used to highlight portions of cells while narrating the story. It gave me goosebumps to think about those people who sacrificed everything for our country. The evening started to get heavy with these narrations.
It was about an hour before the show got over. We were asked to assemble near the bus stop – while moving towards the exit of the jail premises, I noticed a small souvenir shop which sells T-shirts and jute bags. A good place to shop if you are found of jute bags. I picked up one.
We were next taken to Corbyns Cove Beach. It is a nice beach – sandy and slightly rocky lanced with coconut trees all around. One can see number of eateries around the beach selling tea and pakodas. There are stalls selling fresh coconut water. We also savored some snacks – food was fresh. Some of us even tried coconut water. As compared to Delhi, you will get much bigger coconuts with very sweet water indeed.
We spent about an hour on the beach and the kiddos were getting cranky. So we decided to head back to the hotel. Our package included breakfast and dinner at the hotel but the quality of food was not that great in buffet. Nonetheless, all of us were tired and grabbed what was available (as no energy of patience was left to order ala carte).
After dinner, we were briefed for next day's itenary by the tour operator which was "After breakfast, you will proceed from Port Blair to Havelock by Makruzz ferry. On arrival proceed to your hotel. In the afternoon proceed to
Beach No 7* (Radhanagar Beach) rated as the 'Best Beach in Asia' by Time Magazine. Watch a mesmerizing sunset on Beach no.7 before returning back to your hotel to relax and unwind. Dinner and Overnight at the hotel." Anticipating another fun filled day, we headed to our rooms at about 10 in the night.
We had to pack everything since our next two days were scheduled for Havelock Island and this aspect of packing and unpacking started to get hectic (by the end of the tour it had actually got onto our nerves)..
Day 2 – Port Blair – Havelock by Ferry (30 kms/1.5 hrs)
To continue the journey, read Havelock Island, Andaman
To read tips and budget ideas refer to tips and budget ideas