SurajKund Mela 2018 – a celebration of life, a mesmerising amalgamation of art & culture, a showcase of Bhartiya sanskriti, our ethnicity in textile, handloom and khanpan, vivid art & craft, music and dance, colorful ambiance! The Surajkund Mela is unique as it showcases the richness and diversity of the handicrafts, handlooms and cultural fabric of India, & is the largest crafts fair in the world.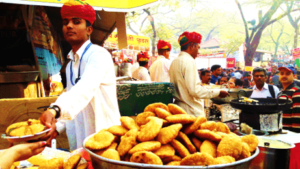 This festival has come to occupy a place of pride and prominence on the international tourist calendar, attracting more than a million domestic and foreign visitors during the Mela fortnight. There are thousands of skilled craftsmen and artisans of India and other SAARC nations to show their talent at this event.
Organised since 1987, the mela offers a wonderful opportunity for the public to learn about their vibrant culture and get to respect the age-old hastkala and handloom industry.
It is organised during the spring season, every year from 1–15 February, (in 2018, it is from 2-18 February) in the precincts of Surajkund*. Traditional craftsmen (artists, painters, weavers and sculptors) from all parts of the country participate in this annual celebration named as the "Surajkund Crafts Mela" or "Surajkund designer's Village".
The fair is held with a different theme every year on Indian culture and crafts. The theme, specific to a state of India, is depicted at the entrance to the Mela grounds and provides an ambiance of that particular state with characteristic colors, materials, architecture, furniture and decorations.
Entertainment in the form of famous rhythms and dance of folk theater are also held here during the festival. A large number of renowned national and international folk artistes and cultural groups present day performances at both the Chaupals, the open-air theatres, located in the Mela premises. Also enthralling cultural programmes are held at the main Chaupal during evenings. The Mela is indeed a custodian of the heritage crafts involving use of traditional skills that are fading away due to cheap machine made imitations, and a special section is earmarked for showcasing of these heritage crafts.
The Mela also includes a food festival covering some of the popular cuisines from different parts of the country. The multi-cuisine Food Court provides ethnic cuisines from all over the world, which are immensely popular with visitors.
The Mela celebrates the unique diversity of Indian traditions and culture in a ambience, created to represent the ethos of rural India. Surajkund International Crafts Mela showcases some of the most exquisite handlooms and handicrafts of India. Handmade fabrics soaked in ethnic colours make an eye catching display for the visitors.
In 2013, the fair was upgraded to an International Level and was rechristened as '28th Surajkund International Crafts Mela' . In 2014, over 15 countries from European & African  continents participated in the Mela including SAARC nations.
For the 32nd Surajkund International Crafts Mela-2018, the state of  UttarPradesh has been chosen to be the Theme State. At least 20 countries & all the states of India are participating in the Mela. Kyrgyzstan is the Partner Nation for 32nd Surajkund International Crafts Mela 2018 (Kyrgyzstan, officially the Kyrgyz Republic, is an amazing mountainous country in the heart of Central Asia)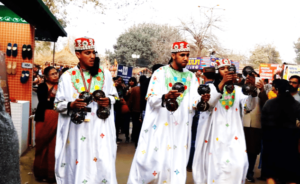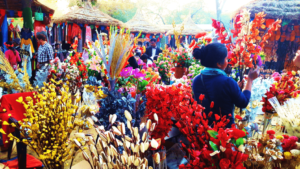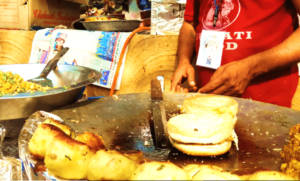 General information about the Mela:
Location: Surajkund, Faridabad, Haryana, India
Sale of Mela entry tickets: Bookmyshow.com
Price of ticket: INR 80 per person (for Indian citizens)
Mela Timings: 10:30 AM-8.30 PM
Area: 40 acres with about 1010 work huts
Organised By: Surajkund Mela Authority in collaboration with the Union Ministries of Tourism, Textiles, Culture, External Affairs, Department of Tourism, Government of Haryana and Haryana Tourism Corporation
Last Year's Footfall: More than 1.2 million (including foreign visitors) with more than 20 countries participating in it
How to reach: By road – Surajkund is well-connected to Delhi, Gurgaon and Faridabad by metalled road approachable by one's own or hired conveyance Buses are available from ISBT, Shivaji Stadium, Gurgaon,Faridabad and Surajkund. Tourist cabs/ tourist coaches to the venue can be conveniently hired from Delhi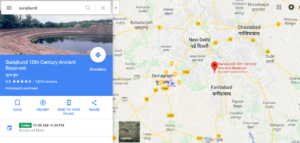 Special features: Security arrangements are beefed up with CCTV Cameras installed in the Mela ground along with the Night Vision Cameras. A large number of security personnel are deployed. Golf Cart and a Battery Operated Rickshaw are available on request. Environment friendly e-toilets have also been set up within the Mela premises. There are mobile ATM vans also. Souvenirs such as Mugs, neckties,key rings Umbrellas, fridge magnets, coasters & decorative plates are be available for sale on affordable prizes.
Parking facilities: The parking area for vehicles has been increased and separate entry and exits have been provided so as to ensure smooth and unhindered flow of traffic.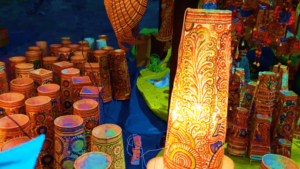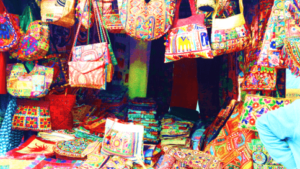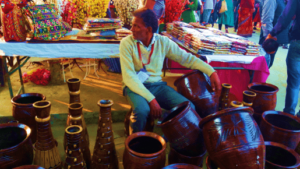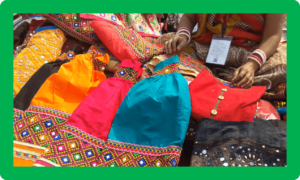 A special ambience is created in the Mela area. It is divided into six zones. The profusion of elements from Nature, life and music accentuate the Mela surrounding. A splash of colours, rhythm of drum beats and joy de-vivre, merge at Surajkund during this festival.
I recently had the chance to visit the mela and have captured some dance performances from various states!! View the video!
I have also captured a view of the food court with a flavour of multi-cuisines available at the mela and have uploaded here!
List of handloom articles sold in the mela (which you can buy from) – Saree Dress Material, Silk saree Dupatta Suit, Shawl, Stoll, Ikat, Wollen Shawl, Sant Krupa Stoll, Durry, Bed Cover, Furnishing, Jamdani & Kani Saree, Bagh Print,  Chanderi, Tie & Dye, Pochampalli, Bhagalpuri, Sambhalpuri, Tant, Banarasi, Linen, cotton ikat, Tangail Jamdani & Kani, Tussar, Rajasthani, Mysore silk, Mooga Silk, Gadhwali, Zari Jamdani Textiles
List of handicrafts (which you can buy from) – bamboo articles, Wooden Handicrafts, Coconut shell Handicrafts, Crochet Lace, Wood Carving, Leather Puppet, Kalamkari Painting, Wooden Cutlery, Kalamkari Hand Block Printing, Wooden Lacquer ware, Palm leaf, Cane & Bamboo, Artistic Rabha Textiles, Mithila Painting, Madhubani Folk Painting, Paper Machie, Hand Print Textile, Lac Bangles, Madhubani/Godhna Painting, Dhokra (Bell Metal), Art Metal Ware, Jali Work on Wood, Terracotta etc.
Other things which you can do in the mela – enjoy the camel rides, joy rides!!
Read more articles- visit destinations!
---
*Surajkund (सुरजकुण्ड) is an ancient reservoir of the 10th century located in Faridabad about 8 km (5 miles) from South Delhi. Surajkund (literal meaning is 'Lake of the Sun') is an artificial Kund ('Kund' means "lake" or reservoir) built in the backdrop of the Aravalli hills with an amphitheatre shaped embankment constructed in semicircular form. It is said to have been built by the king Suraj Pal of Tomar dynasty in the 10th century. Tomar was a sun worshipper and he had therefore built a Sun temple on its western bank.