Visit to Bhutan
Bhutan is a very beautiful place..still unexplored..still raw…lush green paddy fields in summer to snow laden mountains in winters..It is a must visit place in any season. 
About 70% of the country is under forest cover. 
 Bhutan, also known as the Land of Thunder Dragon is located between India and China. It is a small Himalayan Kingdom with rich flora and fauna and a country which still holds on to its unique culture. The main attraction of the country is its unique heritage and culture. Bhutanese tradition is deeply rooted in Buddhist heritage. 
There are twenty districts in the country – prominent ones being Paro, Thimpu, Punakha, Bumthang.
I stayed in Bhutan for 8 days and it all seemed short at the end of it. Visited Paro, Thimpu and Punakha. Clicked over a thousand pictures in all. I have broken down the entire story into three pages as it is difficult to capture all details in a single narrative. You can find each of them under destinations.
I was so connected to the place that I did not feel like coming back. Through the pages on Bhutan, I have captured minutest of details to give you a real feel of the place.
Stay in Thimpu was from 24th Jun to 27th Jun.
24 Jun 2017: Fly to Paro from Delhi. Pick up from Paro International Airport. Transfer to Thimphu, Bhutan
The journey to the land of Thunder Dragon started on 24th June. I had booked the flight to Paro from Delhi on Druk Airways almost six months in advance as it is very difficult to get tickets at the last minute due to limited carriers to the country.
Immigration at the Delhi airport took its normal time.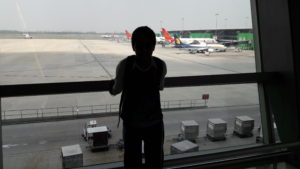 We boarded the plane at around 12 noon and had booked for veg meal. We were served veg meal which included noodles with Chinese veg gravy meal. They had also served juice and cake with it. Meal also included a special Bhutanese preparation of boiled and cut potatoes mixed with molten cheese. There was some kimchi salad as well as side dish.
A word about Druk Airways…It is the national airline of Bhutan. It is the national flag carrier of Bhutan.  Founded in April, 1981 by His Majesty the Fourth Kind Jigme Singye Wangchuck, today the airline operates to 10 international destinations in 5 countries. It also operates domestic air services to Bumthang, Yonphula and Gelephu (in case you want to visit these districts)
Flight was comfortable with warm hospitality…we had already started getting a flavour of the culture..all of the air crew were warm and welcoming in their national dresses…
It is a two and a half-hour flight approximately. We landed at the airport at around 3 PM (there is also a time difference of 30 minutes between India and Bhutan time – Bhutan is 30 minutes ahead of India time). The landing was very smooth (although it is said that landing at Paro is one of the most difficult ones in the world – it is said only 8 pilots are trained in the world to land at this airport. There is only one runway and it is all surrounded by hills and mountains)
Paro Airport is a very beautiful airport. It is a valley surrounded by mountains.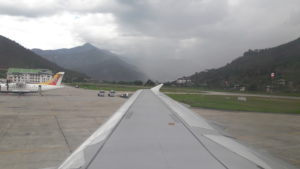 A view from the plane
After landing at the airport
It is one of the airports where you can click photographs of the surroundings.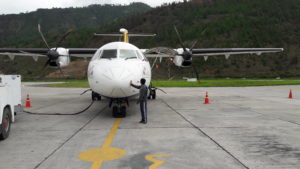 The country is very safe and secure and no body stops you from clicking as many photographs as you want (even you can touch the plane and get yourself clicked with a plane)
It is a very picturesque airport and a very small one indeed – it hardly took 30 minutes to clear the immigration and our driver, Sam from Druk Hotel, Thimpu was waiting for us to whisk away to Thimpu.
The route to Thimpu from Paro took us about 1 hour by road. I had booked a small car. In case you have lot of luggage, it will be good to book a bigger car. It is always better to tell the hotel to arrange for cab as that is much more reliable and secure (I am not saying it is unsafe to book for cabs using other travel and tours but Bhutan does not have many tours and travel websites. There are no Ubers and Olas in the country. However, local taxis are easily available for local site seeing. However, to get taxis for cross-country or cross-cities is quite difficult. Hence, it is recommended to book a taxi through the hotel. You can also request for drivers who speak Hindi or English. Another point worth mentioning is that most of the people in Bhutan can speak good English)
Coming back to the route from Thimpu to Paro – it is also very picturesque.
We reached Druk Hotel, Thimpu at around 5 PM. Druk hotel is a four star property right in the main town. Market is walkable distance from it. I had booked room with them for three days along with breakfast.
We were greeted with a welcome drink and taken to our room on the third floor. Room had an excellent view and we could see Changlimithang  Stadium from the room.
After resting for half an hour, we decided to go for a walk in the market and to have a feel around the place. There are lot of local shops selling handicraft items. Best is to go to Handicraft huts in front of Immigration office. You will get all items here at reasonable rates. Thimpu is much cheaper than shopping at Paro (so in case you intend to pick up some handicraft items for gifting, Thimpu is the place – there are beautiful bags, purses, shawls and key rings which you can buy. You will get Yalk wool shawls as well and Yatha shawl also which is made up of adult yalk wool. Both of them are good buys but are quite expensive)
Important Tips: It is very difficult to get last minute seats if you plan to travel to Bhutan. So advanced booking is recommended (for booking the tickets you can have a look at the website of Druk Airways). For more tips on Bhutan, visit my page Tips for Bhutan.
Weather in Bhutan (even during peak summers in July, August) is quite cold and you must carry a fleece sweat shirt with you.
Day 2: Experience Thimpu, Bhutan – BBS Tower, Takin Zoo, Tashichhodzong, Budha Point, National Memorial Chorten
Day started with breakfast. Breakfast which I had opted for was mainly continental. One can order ala cart as well. Druk hotel serves one of the best Indian food in Bhutan (although I found it average in terms of Indian food but did like their Chinese food a lot. It is is also recommended to try the Bhutanese food while in Bhutan. More about it later). They serve good continental food as well (you will have to prebook all of this before coming to Bhutan and trust me it is better that way)
Sam was already waiting for us at the reception.
After breakfast, we visited BBS tower – BBS stands for Bhutan Broadcasting Service. It is a broadcasting tower located out of the main town at a certain height. It is a good view point but nothing much to see. Sam drove us around the town.
After spending half an hour there clicking pictures and enjoying the view, we moved to Takin Zoo. It is a forest reserve area for Takin – the national animal of Bhutan. There are lot of legends surrounding the beautiful animal which seems to be a mix of a cow and a goat. It lives in groups and feed on bamboos. It is found in places above 4000 meters high in the north-eastern and north-western part of Bhutan.
Our next halt was at Tashichhodzong.
Dzong in Dongzkha means 'fort'. Every Dzong in Bhutan is very old. Some of them go as far as 300 years. This one now houses the office of the present king – K5 as well as His Holiness the Chief Abbot apart from the government offices. It is situated along the banks of Thimpu river. It was built in 1641 by Zhabdrung who unified Bhutan and was later reconstructed by the third king in 1962.
The place is surrounded by beautiful walkways and gardens. I could also spot lot of Maple trees in the complex. King's palace is also near by. It is said king walks everyday to his office. The whole complex is very green and clean with breathtaking views of the mountains.
There are lot of monasteries inside the Dzong.
We took break for some time at this time and went to a local eatery called Druk Pizza – Pizza tasted good. It is one of the best Pizzaz in the town. One word of caution. In Bhutan, too much time is taken to serve the food. Best is you order food and finish one site and come back for the food.
After lunch, we again began the journey. Another thing worth mentioning is  – be prepared to walk a lot. In case you are not used to walking, you will not be able to see much because Bhutan is all about exploring things on foot – all bazaars, monasteries, dzongs will need you to walk. Carry a good pair of walking shoes and back belts (if you have back ache)
Next in agenda was Budha Point or Buddha Dordenma
This place hosts 169ft statue of lord Budha and has been built under the project initiated by His Eminence Trizin Tsering Rinpoche. The giant statue is made of bronze and gilded in gold.
Like all places visited so far in Bhutan, even this place has amazing views. The recreational park surrounding the Buddha statue conserves 943.4 acres of forest.
We next visited National Memorial Chorten. Also known as Thimpu chorten, it is located at the heart of Thimpu city and was built in 1974 to honour the third king.
Day 3: Experience Thimpu, Bhutan: Immigration office for permit to Punakha, National Textile Museum, Folk heritage, National Library, Changangkha Monastery, Centenary Farmer Market, Simtokha Dzong
After breakfast at 8.30 AM, our day started with visit to the immigration office to obtain the permit for visit to Punakha. The immigration office is right across the street from Druk hotel. The officials asked us to fill a form and asked for a copy of the passports. I filled the form and gave them the other papers. They asked us to return in an hour and collect the permit.
Our first site of the day was National Textile Museum. It was an initiative lead by the Queen mother. She has been instrumental in leading many initiatives to boost international interest in Bhutan's textiles and art traditions. A visit to the museum exposed us to many styles of local dress and textile weaving techniques. There is a 10 minute video clip which was also shown.
Sam drove us to Folk Heritage Village – it was built in 2001 and gives a glimpse into the Bhutanese way of life.
It displays a collection of old tools, household things. You can also see old way of cooking and weaving. It is a three storyed building. The museum also houses a traditional water-mill with mill stones more than 150 years old, and even one of the traditional hot stone baths that are famous throughout the country. (for more information read – you can visit Bhutan Tourism website)
Our next stop was at the National Library – It was first established in 1967. It has rich collection of old and important documents on Bhutan
Very near to the national library is the National Institute of Traditional Medicine which we saw from outside. It was time to break for lunch. We headed back to the hotel for a quick lunch. If staying at Druk hotel, do try their fried rice and manchurian – it is quite tasty. While driving back, we also collected our permit to Punakha.
We met Sam at the reception at 2.30 pm for the second session. He first drove us to Changangkha Monastery. Located on a ridge overlooking the town, the place has many picturesque views. We trekked upto the temple. There were prayers going inside and many lamas were reciting the hyms. It was a heavenly experience to listen to those hyms – so much peace dawned on me. After that began the photo session.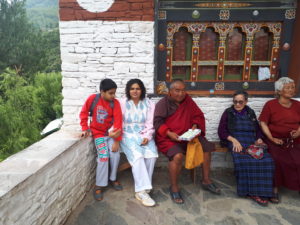 After visitng the temple, we went to Simtokha Dzong – it is the oldest Dzong of Bhutan construced in 1629 by Zhabdrung. The word Simtokha means "atop a deamon" and the legend associated tells us that it was built in order to subdue an evil spirit.
It was almost 5 PM  and Sam was soon going to call it a day. We also had to prepared for the next day which was transit to Punakha. So, we asked him to drop us at the Changlimithang stadium (which was hosting an archery competition). Archery is the national sport of Bhutan.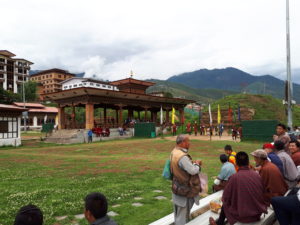 It was pleasant to see people  relaxed and happy. Everybody seemed to enjoy the sport. Men of all ages had bows and arrows in their hands. A score board was being maintained to see who is the winner.
Soon, it started drizzling. We took shelter under a shed in the archery ground. It poured for 10 mins and we started feeling hungry. We headed back to the hotel and ordered for tea and hot pakoras. After having snacks to the heart's content, we headed for shopping. I bought many souvenirs including fridge magnets, purses and key chains. At around 8 PM, we took a local paid taxi back to the hotel.
I packed all the belongings as we were to start the next leg of the journey to Punakha.
Hope you enjoyed reading the trip to Thimpu – for Punakha, please visit https://traveltalesntips.com/destinations/punakha-bhutan/
Enjoy reading!