October 2017: On my visit to Chennai, I had a chance to visit India's own France or Pondicherry!! No time to visit France or tickets seem expensive – no worries. India's own France awaits you in Pondicherry…get set and PO!!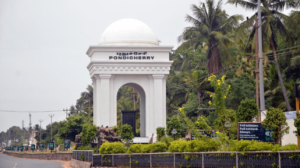 Take a flight to Chennai….Caricatures on the walls of the Kamaraj Airport at Chennai will welcome you to the land of ethnicity – with staunch religious and cultural practices, the region still holds majority of the traditions alive, which is in many terms a blessing in disguise…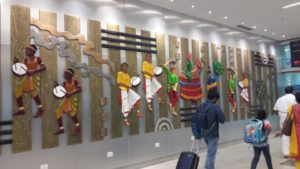 It takes about 2.5 hrs by East Coast Road from Chennai to Pondicherry – drive is scenic with sea line visible during most of the stretch of the journey…Lush greenery, which is another distinct feature of the region, greets you all along the way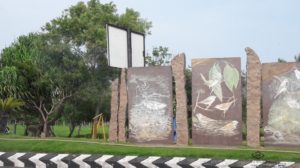 What to see and experience in this land of multiple cultures and customs? – There is a lot to see and experience here..of particular mention is heavy influence of French, Tamil cultures in food, architecture, monuments as well as people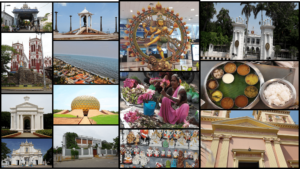 Most of the places to be seen in Pondy city are in close vicinity majorly in White town – Manakula Vinayagar temple, Promenade Beach, Raj Nivas, White or French town, Aurobindo Ashram, Pondicherry meuseum, Basilica church, railway station, shopping market…I suggest take a pedi cab or a rikshaw to cover the entire area…it is convenient as well as enjoyable…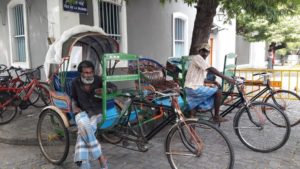 Located in the main city, Arulmigu Manakula Vinayagar Devasthanam temple was built around 300 years ago…dedicated to Lord Ganesha, this Hindu temple is a site in itself…. Thirukaameeswarar Temple is another famous temple, however in one day trip you can skip it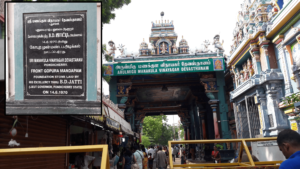 Outside the temple, lotus bouquets being prepared to be offered to Lord Ganesha…very distinctly you can observe the age old Tamil tradition of women decorating their hair with orange and white flowers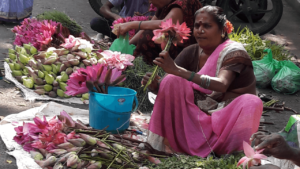 God of small things – literally!!…Man selling God or God providing livelihood for these sellers????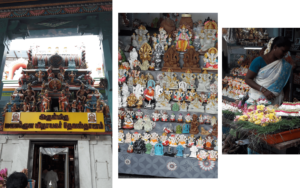 Another site to behold – Raj Bhawan or Raj Nivas or the official residence of governor of Pondy is a marvel in architecture. It is very near to the Promenade Beach..Build in 1766, Raj Nivas is open for public viewing. You can register yourself online to get a tour inside…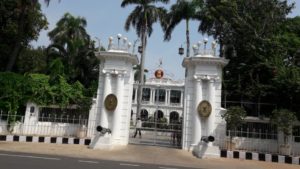 View from the terrace of the French museum…Promenade beach offers a nice walk along the sea shore…there is a huge line of some of the famous cafés facing the sea where you can enjoy your cuppa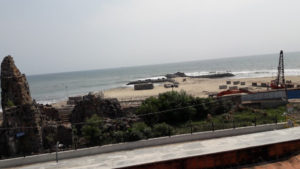 Located on Promenade Beach, Gandhi Statue is the biggest Gandhi statue in Asia – it was inaugurated in 1965. It is surrounded by 8 granite pillars…bang opposite to the Gandhi statue is the war memorial…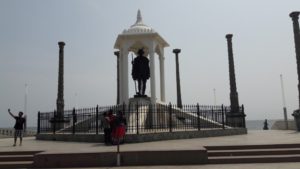 War memorial and old lighthouse – famous monuments of Pondy telling the untold stories of the yesteryears…the French War Memorial is dedicated to those soldiers who sacrificed their lives for the country during World War I. Built in 1971, it is located opposite to the Gandhi statue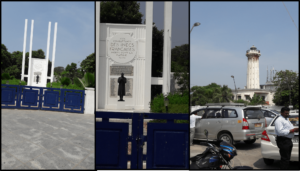 Right in the centre of the White town, this church was built around 1855 – it is fourth in the series of churches built in Pondy during those times…note the pastel work on the ceiling..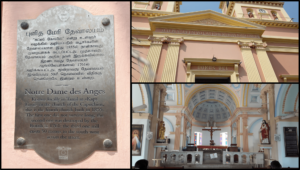 French houses and offices…The French styled architecture with its long and huge windows with vertical cast iron bars as grills, ornate balconies, large courtyards, circular arched gates, columns and stucco design are enough to transcend you to French era..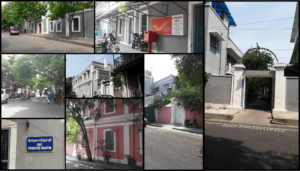 French houses and offices in white town area…all road signs are in Tamil and French in this area. The area is heavily populated by French and Tamil speaking people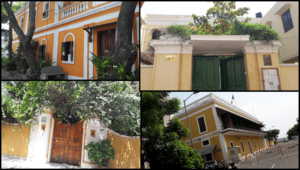 Pondicherry Meuseum – this museum houses some of the oldest fossils of wood. There are bronze statues dating back to 11th century…some of the monolithic statutes dating back to 2nd century can also be seen here while wood fossils are million of years old..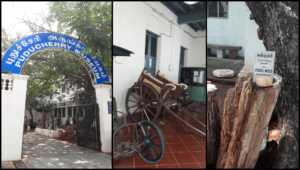 Statues at the museum dating back to 1st/2nd century…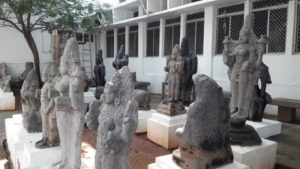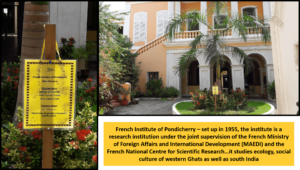 Views inside – Nehru ji had visited this place in 1955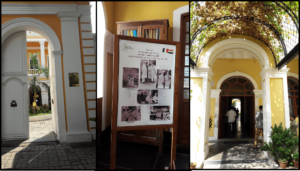 Views inside – old artefacts and statues…of particular interest is French architecture…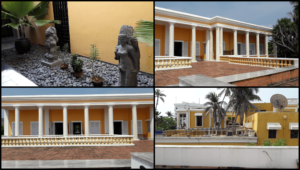 Views inside – old artefacts and statues…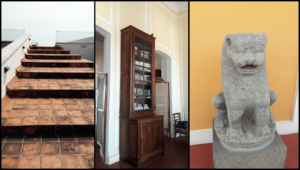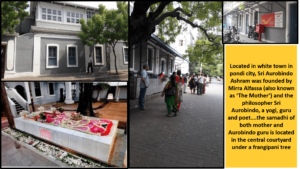 Tamil architecture – a house built in 1932…sharp contrast to the French houses…A very significant difference between the houses in the French Quarter and the Tamil Quarter is that the houses built in the Tamil style are much more friendly towards visitors. With their inviting verandahs they make a traveller comfortable in seeking refuge or rest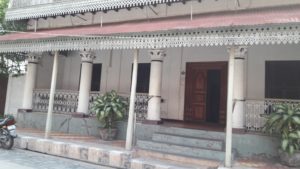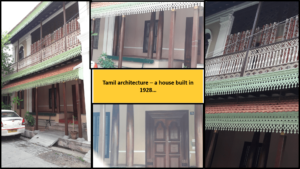 Very old Tamil house – more than 200 hundred years old…don't miss the tiles and columns…also note the intricate design on the roof hangings…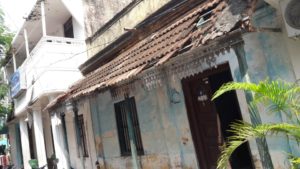 St. Basilica Church – this Gothic style building is a landmark in Puducherry. Devotees and Tourists visit this revered place of worship to offer prayers…right opposite the railway station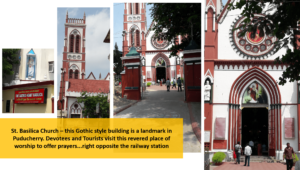 Planning to shop – local market at Pondi offers various options…there is a factory outlet of Hidesign in case you plan to pick up a bag or two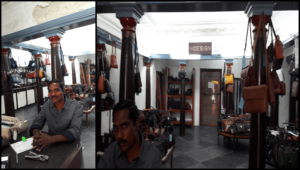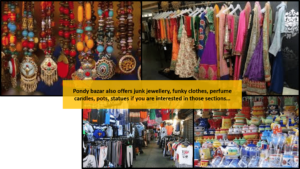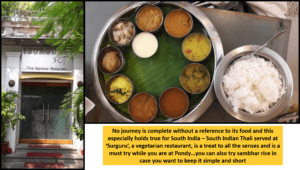 Way to Maitri mandir – about 8 Kms from the main town towards Chennai is located the Auroville which hosts the Maitri Mandir. Auroville Ashram was set up in 1968 by Maa…The city is planned in a circle of radius 1.25kms, and the center of the city is the famous Matrimandir along with the gardens surrounding it
Banyan Tree at Maitri Mandir – this tree is over hundred years old and has many offshoots now…it is at the geographical centre of the Auroville Ashram…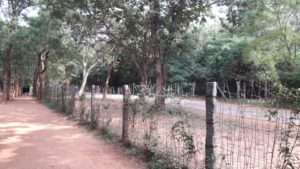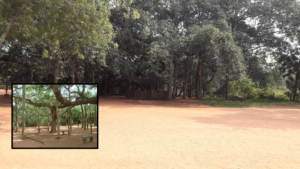 Maitri Mandir – the mandir is an architectural masterpiece with a 30m high globe with a lotus-shaped foundation urn…one can meditate inside the mandir but for that one has to book online in advance..so do the booking before visiting the place…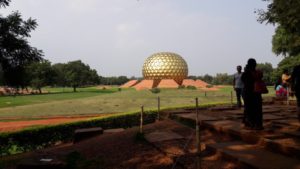 Enjoyed reading – do visit other destinations
Also visit my youtube channel to view related videos!!!