Dec 2015: Priyanka, Pranshu and I were exploring trip options around Delhi for Christmas weekend and many names cropped up in our discussions. We just had three days with us and wanted an offbeat option to relax over the new year weekend. After speculating over names such as Landsdowne and Fagu for over a month, we zeroed on Mukteshwar.
Mukteshwar is located in Nainital district of Uttarakhand, India. It is a tourist destination situated in the Kumaon Hills at an altitude of about 7500 feet. It is about 50 km from the main city of Nainital and a drive of about 7 hrs (about 343 km) from Delhi. Mukteshwar is not a usual hill station – it is a very small town, unexplored and very close to nature. It is an offbeat location which has not yet been commercialised. One can hear the chirping of birds and not the honking of horns. One can see the pristine blue skies and mesmerising view of the Himalayas.
We booked a cab (an Innova) for the entire trip of 5 days as this seemed to be a more comfortable option (when we later worked on the logistics, it turned out to be a cheaper option as well). For accommodation, Pranshu booked hotel Krishna Orchard.
We attended the office during the day and left Delhi by 9 PM on 30th December. The idea was to avoid heavy rush hour at around 5 to 7 PM. It was an overnight drive to Mukteshwar and we reached our hotel by 7 AM in the morning of 31st.
It was bone chilling cold but a sunny day – skies were crystal clear. Temperatures were around 2° Celsius. It is said the place receives heavy snowfall around new year and we were also thrilled by the anticipation (although it did not look like it will snow).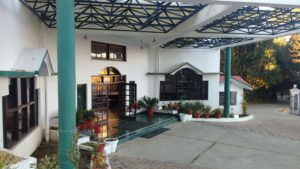 Hotel Krishna Orchard is a very spacious hotel with beautiful views of the valley. Architecture of the building is also amazing.
However, interior décor is not that commendable especially the linens and the carpets. The rooms are very cold and you will have to ask for heaters (Heater rental is not included in the room and do check these details before making the payment).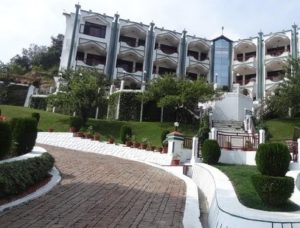 We checked into the hotel and after having breakfast decided to relax at the hotel for few hours. By the time we were up, it was early evening. So, we thought of exploring the place and asked our driver to take us to local bazaar.
It is a very small town and although we knew there won't be much to see or do in the bazaar except a pleasant site of local folk selling vegetables and groceries. But we still went ahead with the idea to have a feel of the place. Whenever one is in hills, the feel is incomplete unless you have a tete-a-tete with a local. I too approached a local lady selling fresh cauliflowers and potatoes. The greens also looked very enticing. I asked about the weather, place, tourists and lifestyle. It is more to get to know the place. We strolled in the market for about an hour. My other two buddies who are very fond of drinking and snacking picked up some bottles for the evening. It was 31st eve and hotel had great arrangements for the night.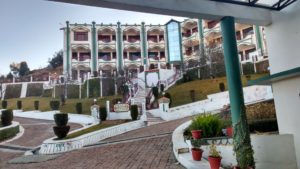 After we reached hotel, we headed for dinner – food is amazing at the hotel and I would recommend chicken tikka in case you are a non-vegetarian. For vegetarians also, there are umpteen options. We were served dinner in the open. The area where bon fire was arranged is surrounded by hills on one side and open to valleys on the other three sides.
It was freezing cold and I had more than 3 layers of woollen already. Fire was lit around 10 PM and all the guests at the hotel were invited to join. The hotel almost had full occupancy. People started singing and dancing around 11 PM. There were fire crackers till about 12.30 AM. Majority of the people headed towards their rooms after 12 AM.
It was a moon lit night. Slowly as the hours passed, it started getting eerie – the place became very quiet. There were clouds in the sky and moon was also covered by them. All three of us chatted through the night till about 2 AM – my favourite topic being ghost stories set in the hills. I started scaring Priyanka. The moon, hills, rustling of leaves in the nearby bushes, the clouds and the stories – all of these created such an effect on us that we were scared to sit in the open now. We decided to visit the temple next morning.
Mukteshwar is very famous for its 350-year-old temple of Shiva, known as Mukteshwar Dham after which it got its name. It is situated atop the highest point in the town.
Day 2 – Visit to the temple, Chauli-ki-Jali and trek around the place. Drive to a waterfall
Despite sleeping quite late, we were all up and ready for the temple by 9 AM (again, would like to mention breakfast was great. You can try aloo pyaz paranthas and must try is masala chai). Temple is a drive of about 30 minutes from our hotel.
Being at the highest point, it is a trek to the temple – there are stairs you can take. There are flower and pooja samagri sellers sitting outside the temple and some small thele vallas selling tea and Maggie. We left the car in the parking lot near the temple and started trekking up.
We reached the temple in about 20 minutes of trekking.
Temple in itself offers a breath-taking view – wooden architecture and surrounded by trees and and valleys on all sides, it is a site which will stay in your memory for a very long time. Many devotees of Shiva were lined up for darshans. Some were carrying pooja thalis with them.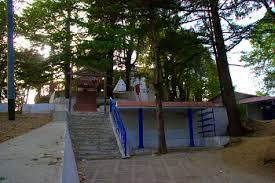 The sancta sanctorum is a small room with Shivalinga and place to sit for a Pujari – now, the story goes that the main pujari ji does not speak (he is a mauni baba) and is always chanting mantras. There is a tree shadowing the sancta sanctorum and people consider this tree to a very holy one – one can see lot of devotees tying bells or ghantis on its branches. They say that whatever you wish for, you can pray to Shiva and tie a bell to the tree. If God desires, your wish will be fulfilled. We also did a parikrama of the temple.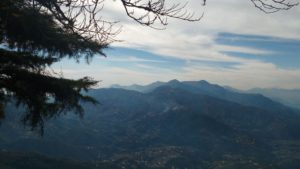 After an hour, we started trekking down. From the base point, there is a small pagdandi (pagdandi is a narrow footpath) which takes you to Chauli ki Jali – one of the main scenic attractions of the place.
Chauli ki jail offers a beautiful view of the Himalayas – there are trekking paths which go into the jungle. The place also offers adventure activities such as flying fox, rappelling, hiking, archery and trekking. All of us tried our hands at archery and flying fox activities.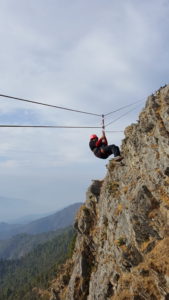 By the time we finished all the activities, sun had started setting down – all the people gathered near the cliff to see the sun set. It was indeed a beautiful one. All around golden hues were decorating the tall peaks. Skies were turning a shade of pink, orange and blue. With nature displaying its art skills, my heart fell in love with nature all over again.
Walking on the kuchha rasta, we reached an old PWD guesthouse which also offers mesmerising views of the Himalayas and many peaks from the garden in front of the guesthouse. The guesthouse has been developed into an accommodation property now. You can book this for stay through sites such as trip advisor.
After basking in the views to our heart's content, we started trekking back to the parking lot. By this time, we were feeling tired. Once in the parking lot, we ordered Maggie to satisfy our hunger. I must say Maggie has always tasted heavenly when in hills and when I am very hungry. I never leave a chance to eat this staple diet of India whenever I am in the hills. It just multiplies the joy of the whole experience many folds. After the Maggie treat, we embarked on our journey back to the hotel.
By the time we reached our hotel, it was about 8 PM – we quickly ordered for dinner and retired to our rooms as next day the plan was to do paragliding before proceeding to Nainital.
2nd Jan – paragliding at Bhimtal, boating at Nainital and shopping
As we slept by 10 PM (mostly in the hills, people sleep early and are up early as well), we were all ready by 9 AM to board the cab.
The plan was to stop at Bhimtal for paragliding and then proceed to Nainital for boating. Bhimtal is about 2 hrs drive by road from Mukteshwar. There are many tourists who come to Bhimtal from nearby hillstations to do paragliding. We approached SkyBird Adventures office for the activity. Charges for paragliding is about 2000 INR per person. So, the plan was that whoever decides to do the activity will have to board SkyBird's vehicle and go up to the cliff while others will wait at the base station near the office. Not all of us were keen in taking up paragliding – some of us decided to wait in our own hired car near the office.
I have done paragliding many times before as well and it is a must experience in life. Each time it has been a wonderful experience. We were taken to the base of the cliff in Innova. Along with us, there were pilots as well as their gliding equipment in our car (so the way it happens is like this – you glide with a pilot who is a very trainer para glider. The pilot controls the entire flight. These pilots are employed with different paragliding agencies. In our case, it was Sky Bird Adventures. Each pilot has his own glider equipment. Sky Bird Adventure office will allocate passengers to pilots. They take the passengers allocated to them for paragliding along with them to the top of the cliff from the office in a vehicle. At the top of the cliff, there is a plateau sort of table land which is used as a launch pad. Each flight takes off from the top of the cliff one by one carrying its pilot and passenger. They make you wear the entire equipment along with the pilot. For the flight to take off, you have to run for a distance of about 400 meters along with the pilot. By running you provide momentum to the glider and the moment you reach the end of the cliff, wind takes over the charge of providing momentum to the glider and then it is all control of the pilot and play of the wind)
It was a nice scenic drive of about 20 minutes from the office to the base of the cliff. From the base to the top, we had to trek. The trek is another 30 minutes. It is quite a steep trek but again if you trek only then can you experience the real mountains. All around it was quite green. It was a very sunny day and we had started sweating even though temperatures were about one degree. Near the top of the cliff, the path became very narrow. On one side, it was hill and on the other side, it was deep valley. We had to watch our steps. One by one we crossed that point and reached the flat table top. Many tourists were waiting with their pilots for their turn.
It was good 3 hours before my turn came and what a flight it was. I could see hills, rivers and valleys. It feels like a bird whenever you do paragliding – heart feels the freedom. You can feel the sun, the winds, the green valleys, in fact the whole earth – it looks like a beautiful landscape. Gush of cold winds bounce right into your face and that gives such a fresh feeling. Due to good wind, I had a long flight (pilots also carry a camera for taking videos or pictures while flying and if you want they give you those copies by paying an amount of INR 500 after flying). I flew for about 30 minutes and then it was time to land. Now, landing has to be very carefully done – in case you or the pilot is not careful while landing you can easily injure your back. In my case, thankfully, I have never had issues with landing. Some of us collected their pictures and CDs from the office. By the time we were free it was around 3 PM and we pushed off to Nainital.
Nainital gets its name from the Naini lake – it is a fresh water lake and a very beautiful one.  It is in the city centre. We reached Nainital by around 4.30 PM. All of us were very hungry and wanted to have food. There are many nice restaurants, shopping lanes lined around Naini lake. There is a very big Gurudwara and a very famous temple as well just besides the lake. Must do in Nainital is boating. Around the lake, there is a very broad walkway for pedestrians which offers a nice view of the mountains and the lake. Evening hustle bustle of the bazaar as well as the breathtaking views just transported me into the pahari world – world which is and which always will be close to my heart!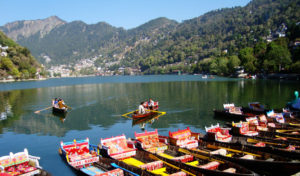 We had our food at one of the dhabas – food was sumptuous. It was getting very cold and windy. We took a round of the market and I bought a red over jacket from the market. Prices are reasonable. Nainital is very famous for handmade candles. We picked up few to be gifted to our friends and family. By the time we were done with everything, it was around 8 PM and we decided to hit the road for journey back to the hotel.
3rd Jan – return to Delhi
Next day, all of us decided to have a lazy morning as we had to return to Delhi that day – we enjoyed our late breakfast or you can say brunch in the open-air lounge. The lounge offers excellent views of the majestic mountains. Chole Bhatore were very nicely prepared. We all ate to our heart's content since the plan was to stop at Gajraula for lunch or snacks. After breakfast, we checked out and headed back home.